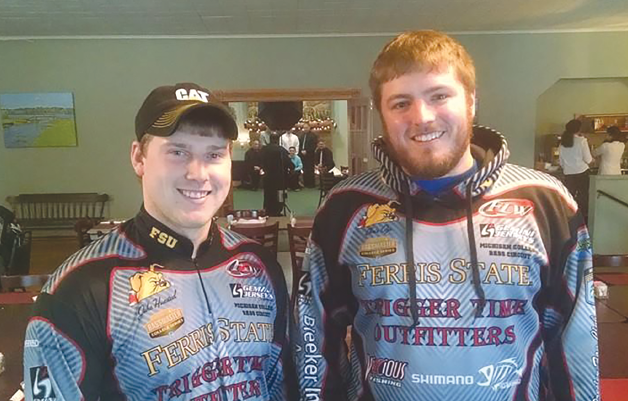 As the ice begins to melt on Lake Michigan and other bodies of water, anglers will begin to dust off their poles and set out to reel in the biggest fish they can. One angler here at Ferris will be competing with 10 of the best anglers across the nation.
Ferris HVAC junior Chris Oja has been selected out of hundreds of applicants to compete on the Garmin College National Fishing Team.
Oja, who is president of the Ferris State fishing club, can still remember how he received the news.
"I remember I was just waking up for class and checking my email," Oja said. "I opened the email that Garmin sent me and as I started getting down the list I didn't think I made it until I saw my name in the number 10 slot and instantly couldn't believe it."
Garmin, a large company specializing in the great outdoors, put together a first of its kind team this year that will give 10 anglers the chance to reel in the largest fish they can.
As one of the 10 anglers, Oja is considered a superstar among anglers, but to himself and his friends, he's just the guy who fell in love with bass fishing.
"I remember one year when Chris and I were at a B.A.S.S. tournament in Illinois," said Ferris alumnus and Oja's former fishing partner Jake Huestead. "He hooked into the biggest bass of his life and 10 minutes later he brought it in. The look on his face was priceless!"
Oja is a simple man with a huge talent and the best metaphor to show this is the lure he throws out each time he fishes at his favorite spot on Chippewa Lake.
"I love using the wacky rig lure when it's slow," Oja said. "The lure is basically a rubber worm on a hook and most anglers won't admit to using it because of how simple it is, but it always catches fish."
Oja will leave Friday, Mar. 3, and head to Kentucky Lake to launch onto the water from Paris Landing State Park.