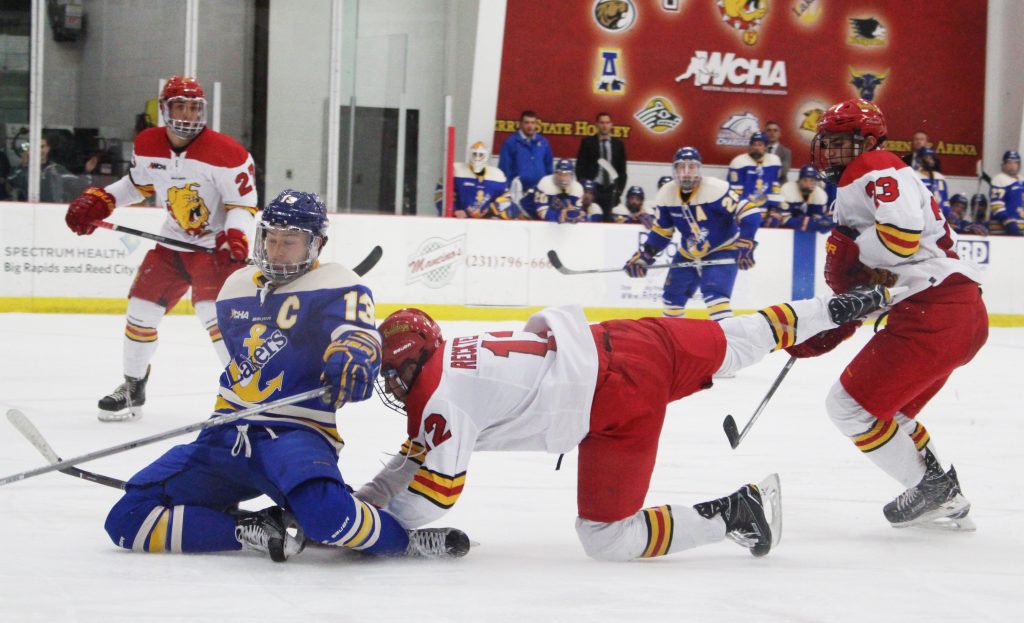 The Bulldogs tied Lake Superior State 1-1 before falling to the Lakers in a shootout, thus ending Ferris' hopes of hosting round one of the WCHA Playoffs.
Despite piling up 46 shots through regulation and two overtime periods, the Bulldogs were unable to match their offensive output from the previous night's 6-4 victory.
The Lakers got on the board first when LSSU forward Mitch Hults scored within the final minute of the first period. The goal would go unanswered until the 2:02 mark in the second period when Ferris junior forward Mitch Maloney scored with help from senior forward Gerald Mayhew and sophomore forward Jacob Hetz.
The score held until the end of regulation and both overtime periods went scoreless, thus forcing a shootout. LSSU's Max Humitz scored on the first shot while Mayhew was unable to connect on Ferris' first shot, bringing the game to a close.
Ferris sophomore goaltender Darren Smith earned 32 saves on the 33 shots he faced. The effort was good enough to earn him second star distinction for the game.
The Bowling Green State Falcons swept Alabama-Huntsville to earn six points in the WCHA standings while Ferris was only able to add four in their weekend series with Lake Superior State. Therefore, the Falcons finished the regular season in fourth place and earned home-ice advantage in the first round of the conference playoffs while the Bulldogs slid to fifth.
Ferris will play a best-of-three series at Bowling Green State in the first round of the WCHA Playoffs March 3-5.