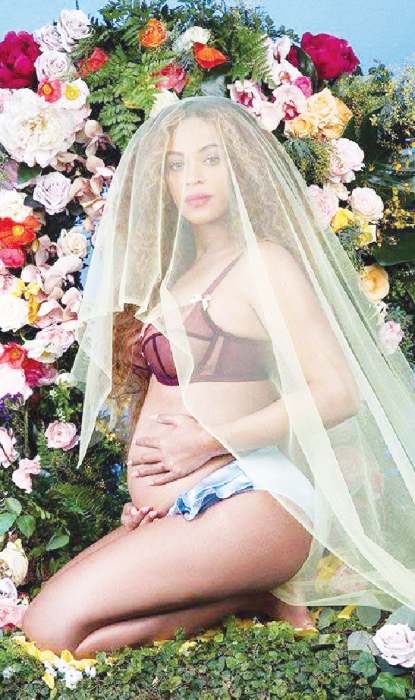 I will admit, I don't have any Beyoncé songs on my iPod. But that's because it's 2017 and nobody has an iPod. What were you thinking? Moving forward.
Those who know me would not expect me to be a huge Beyoncé fan. And huge would, indeed, be an overstatement. I typically gravitate toward loud, angry "white people" music such as punk, metal and Gregorian chant. But I also enjoy Lady GaGa, Adam Lambert and Ke$ha. And I especially love me some Lemonade. And I am not refering to beverages.
Beyoncé Knowles, professionally and endearingly known by her mononym Beyoncé, is one of the most successful artists of all time. She's been nominated for more Grammy awards than any other female performer—more than 50, winning 22, two of which in 2017. Her six solo albums have each debuted at no. 1. Her loss to Taylor Swift at the 2010 VMA awards inspired Kanye to take the stage, make an ass of himself and humiliate Swift.
So, with so many successful pop stars active in the music industry, why does Beyoncé consistently dominate the competition? Here are three of my suggestions that might explain it.
Beyoncé is consistent. Her albums always do well because she sticks to her guns and releases music that the fans expect and typically, love. She has a skilled team of songwriters and producers to ensure she's always on point. She's received ridicule for this by haters and critics but with such juicy results, why hate?
Many artists these days constantly reinvent their sound and image with a range of results. Taylor Swift transformed from a country star to exclusively glitter pop, whereas Lady GaGa is seemingly trying the opposite approach. This experimentation can alienate fans and compromise record sales. Beyoncé tends to avoid any drastic experiments, though remains multifaceted, which leads to my next approach.
Beyoncé is versatile. She has her hands in many cookie jars. She can perform on stage and in the studio with everyone from the Dixie Chicks to Sean Paul without weirding anybody out. Nothing she does is unexpected or outside of her limits. Nobody asked GaGa for a Tony Bennett collaboration, or Metallica to team up with Lou Reed. Beyoncé can not only do practically anything with anybody but in fact, make it better. She can do Rihanna better than Rihanna. Her music isn't too "rap" to dissatisfy a pop crowd, and it's not too "pop" to alienate an urban audience.
Lastly, Beyoncé has the whole "power couple" thing down. The pop star's relationship and eventual marriage with Jay-Z has received more publicity than the British royal family. That's because they have the attributes of an American royal family. They are the quintessential image of 21st century glamor. They're like a Disney couple come to life. We care about them as a couple, and we clicked the link announcing Beyoncé's twins' potential names, even if it was only speculative. You know you did. Just admit it. Especially with the Trumps (yawn) in the White House, you can be damn sure we'll be watching Bey-Z twice as hard.
Any statement against the talent and influence of Beyoncé is, at this point, a moot point. It's like denying Obama's birth certificate. You missed the bus. Nobody's listening. Beyoncé has proven herself as the biggest force in recorded music, and laid the groundwork to dwarf the careers and accomplishments of other acts. She's America's number one sweetheart and her next album will be the best thing you ever experienced. Again.