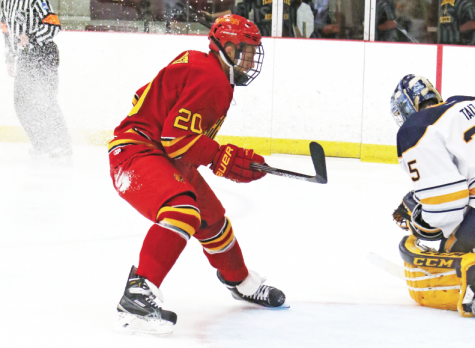 By: Gerald Mayhew | Guest Writer
This four-year journey has been the best years of my life. However, it is unfortunately coming to an end.
I am not like many other college students, because I played two years of junior hockey. Most people probably do not know what that means but it's a development league before you come to college. When I committed to Ferris, I was only 18 years old and the team was the top team in the nation. Although I enjoyed my years of just playing hockey and not going to school, I was ready for my next chapter in life.
This was a huge impact on my life because of how many people and coaches told me I was too small to play hockey. They told me I would never be able to play college hockey, which just made me want it even more. I was born a very competitive person and hated losing more than anything. I get this from my mother, who may be more competitive than I am.
Coming in as a freshman was a very scary thing because it was all new to me. I didn't know anyone or where anything was. When I met my teammates for the first time, I knew in that very second that my first year of hockey was going to be a special one.
Boy, was I ever right about that. That season, we ended up winning the league outright and only losing one game at home. We were No. 1 in the nation for multiple weeks and we were a top contender for an automatic bid to the NCAA tournament. Despite losing in the championship in the Western Collegiate Hockey Association (WCHA) Final Five, we still got a bid to the tournament.
I would have never thought that this would happen, that my first year of college hockey I had a chance to win a national championship. Our first game of the tournament we played Colgate, who we played three times already in the regular season, losing to them twice. We ended up winning the game 1-0 and this is where I scored one of my favorite goals ever.
The puck went up in the air and I used my baseball skills to knock it into the net. This was one of my favorite moments and I wouldn't have been able to accomplish any of these tasks without my teammates that year.
I am now in my last year at Ferris State University and it's a very emotional time. I have been nominated for the Hobey Baker award, which is a huge honor to be a part of. The award goes to the top National Collegiate men's ice hockey player. There are a number of people nominated and to be part of this special group is a dream come true.
There have been recent players who have been nominated who are now playing in the NHL. I have had so much support from my family and friends helping me get to the top 10 in voting. Making it to the NHL has been my dream since I was four years old, and I will do everything it takes to get there.
Hockey is my passion and my life and without it, I would be devastated. From all the hours spent on the bus for road trips to all of the time put into the weight room, I would never do anything different. If I could only thank two people, it would have to be my mom and dad. They would take me to 6 a.m. practice in the morning and drive hours through different countries and states just to see me play.
The one thing I love most about being part of the hockey world is how many special people I have met. I have gained a number of friendships over the years and hope to keep in touch with them.