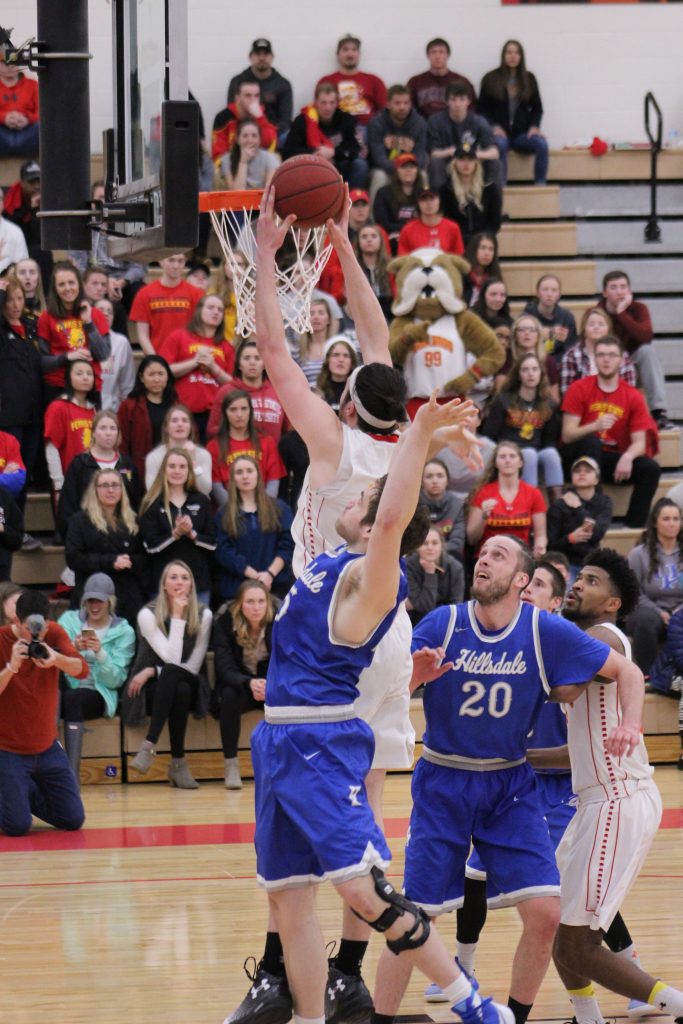 The Ferris men's basketball team needed all 40 minutes to defeat a red-hot Hillsdale Chargers team in the GLIAC quarterfinals.
Saturday's matchup was considered by most to be a cakewalk for a Bulldog team that seemed to be hitting its stride. The No. 8 Chargers, however, gave the top-seeded Bulldogs a run for their money in a classic back-and-forth affair.
The first half of the game saw a determined Hillsdale squad dominate play, shooting at a 75 percent clip from the field and jumping out to a 13-point lead heading into the break.
The second half was all Ferris as the Bulldogs stormed back to take an 84-81 advantage lead by junior guard Drew Cushingberry and sophomore forward Markese Mayfield. Hillsdale however, was not finished with the Bulldogs yet.
With under five seconds remaining in regulation, the Chargers knocked down a 3-pointer to tie things up. With overtime looming in the distance, Cushingberry drove down the court and drew and sunk three free-throws that would ultimately leave the score at 87-84 and send the Bulldogs home one win richer.
Cushingberry burnt the Chargers for 26 points and Mayfield added 16 off the bench. Sophomore center Zach Hankins continued to lead his team in the paint, recording 14 rebounds and 4 blocked shots.
Despite a solid game by Hankins, the Bulldogs were absolutely blasted in the paint as Hillsdale went off for 56 points down low.
A 25-4 overall record makes it difficult to dispute the potential of the Bulldogs, but a narrow win against the Chargers can serve as a reminder that no team is safe this time of year.
With a semifinals matchup set against the four-seed Huskies of Michigan Tech on Saturday, March 4, at 7 p.m. in Wink Arena, the Bulldogs will need to sharpen their game if they hope to advance.
Check out more photos from the game by clicking here!