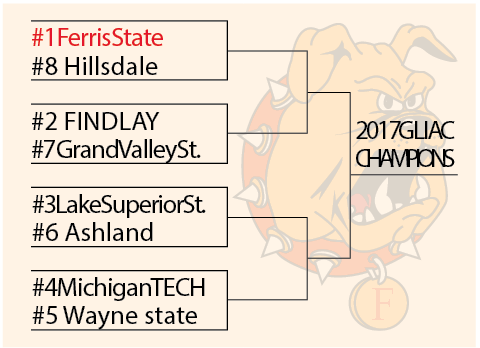 It's tourney time at Ferris, and the men's basketball team looks poised to run away with the Great Lakes Intercollegiate Athletic Conference (GLIAC) tournament championship for the third consecutive year.
Several components have factored into the success of the Bulldogs this season. Here are just a few of the many reasons why the Dawgs will cruise through the tournament with ease.
The Bulldogs bulldozed most other teams in the tournament during regular season play. The Dawgs are a combined 8-2 against this year's tournament teams, including sweeps of Wayne State, Michigan Tech, Grand Valley, Hillsdale and Ashland. With the only two losses coming to Lake Superior State and Findlay, the Bulldogs should feel confident in their ability.
Despite lacking a veteran presence with the only exception being senior guard Quentin Ruff, the Bulldogs have been able to find leadership elsewhere. Sophomore center Zach Hankins has been outstanding, leading his team in not only rebounds per game with 10 but also points per game with 15.1. Junior guard Drew Cushingberry has also been incredible, posting 13.9 points per game, good enough for second on the team behind Hankins.
Aside from the players on the court, Ferris has an absolute mastermind at head coach. Andy Bronkema has instilled an unparalleled sense of confidence in the team and provided stability to a young team that had its critics before the start of the season.
Returning to the fact that the Bulldogs were dominant in the regular season, it's hard to argue that with a 24-4 overall record and the first seed in the tournament, that anybody could dethrone them.
History is in the favor of the Bulldogs. Ferris has won two consecutive GLIAC tournaments, an impressive feat especially entering the tournament as the sixth seed just a season ago. With the No. 1 seed and plenty of talent, there's no telling how far the Bulldogs could go.