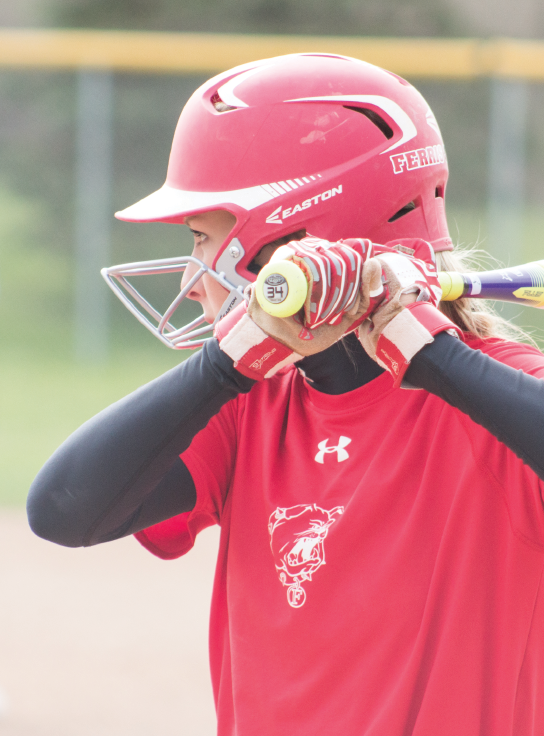 Just because they're escaping the unpredictable Michigan weather for more stable climates doesn't mean the women of the Ferris State softball program are going on a vacation.
Their annual trip to Florida for six days' worth of double headers for the National Training Center (NTC) Spring Games is upon them, but just because it's Spring Break doesn't mean it's time to relax, according to junior pitcher/outfielder Sam Bates.
"It's not a vacation at all, it's strictly business," Bates said. "We are there to win and work on our game before conference play. We do get a few days off here and there to hang out with family and maybe go to the beach. But other than that, it is softball."
The team has a total of 12 games to play, all within the span of nine days, starting off with a matchup against Urbana University Sunday, March 5, and ending the trip with a game against the University of Illinois-Springfield Monday, March 13.
Bates said that though it is a business trip, it's still important for the team to enjoy their time there together.
"You are living with your teammates, learning things you never knew about them," Bates said. "It helps the team grow in a sense of better understanding everyone and improves chemistry because you have that one-on-one connection with the team."
Last year, the team went 15-22 during their time in the Sunshine State as they started off their 2015-2016 season in Florida.
The Dawgs have already begun their season with three straight five-inning losses, so hopes are high on getting better, according to senior infielder Sarah Johnson.
"I expect us to make improvements every game. We have a lot of newbies and it takes time to teach them the culture of our team," Johnson said. "But if we see improvements every game and every day, it will set them up for the future, even if the seniors are already gone."
It'd be tough for any college student to give up their Spring Break, but there is always a bright side to things, according to Bates.
"Being outside is better than being in any gym while playing," Bates said. "The sun on our face and cleats in the dirt is the best feeling."
The team starts off their NTC Spring Games 1 p.m. Sunday, March 5, in Clermont, Florida. The team will return to regular conference play in late March.