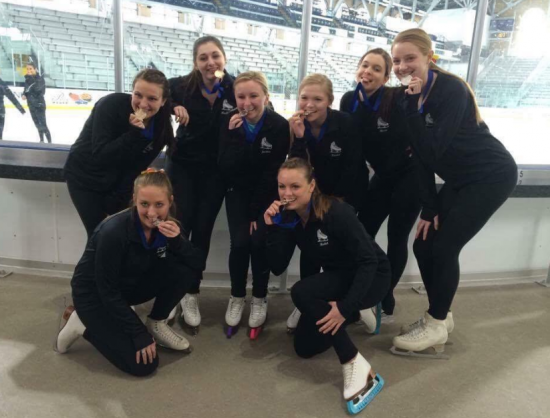 There's a common lineage between the founders of two ice sports at Ferris State.
The Ferris figure skating club was started in 2014 by Ferris pharmacy junior Kristen Krantz. Just three years later, the club competes against traditional Div. 1 schools such as the University of Michigan and Ohio State.
Her father, Brian Krantz, was also a pioneer of ice sports at Ferris, as he helped start a college hockey club team, which eventually became the varsity team.
Brian Krantz and a few friends played hockey at Kirtland College before transferring to Ferris in 1973. At the time, Ewigleben Arena did not exist and there was no facility to play hockey.
Krantz's father left a message at a Ferris office to which he received a reply a few days later. The university had plans to build Ewigleben Arena in 1975, but Ferris approved the creation of an outdoor ice rink between Brophy-McNerney and Merrill-Travis halls. After becoming a registered student organization (RSO), the Ferris Hockey Club hosted tryouts with more than 100 people showing up, according to Brian.
Kristen followed in her father's footsteps by starting the Ferris Figure Skating Club. Kristen realized Ferris did not have varsity or club figure skating before applying for college, but since her father was a trailblazer at Ferris, she figured she could be as well.
"My freshman year, I showed up on campus and didn't have any connections so I had to make a bunch of calls. He helped make calls, getting bounced around from person to person trying to find the right people to talk to make this happen," Kristen said.
She spent most of her freshman year looking for other girls to fill the five-person minimum threshold to start an RSO. By March of 2014 she had enough skaters to create the club, and as many as 17 skaters were registered by Fall. Since then, Ferris figure skating has medaled in multiple competitions against larger schools and have put on shows at Ferris hockey games.
Team maneuver figure skating is a complicated sport that requires mastery of particular choreographed moves to be judged in comparison to the competition. Every team performs six different elements, which are those particular movements such as an axle or a waltz.
Dance competitions are judged based on precision of turns and jumps during a predetermined routine that everyone follows. Freestyle competitions are judged on the skater executing the elements appropriate for their level.
Besides little recognition on campus, the figure skating club's biggest issue is affording ice time. The team currently practices for two hours a week at Ewigleben Arena at $152 an hour.
Kristen said: "Our biggest challenge is paying for practice because ice time is so expensive. In order to prepare for competition, we have to practice and we can only afford two hours of practice a week."
Funds have come from team dues and fundraisers, as well as proceeds from a hockey tournament that Brian Krantz puts on in Traverse City. But Krantz hopes the team can receive more money from Ferris Clubs Sports to fund ice time.
The Ferris Figure Skating Club is looking to expand and accepts both men and women. Formal tryouts are held in the spring, but the team is open to impromptu tryouts on a case-to-case basis if someone finds out about the team late.
Ferris senior and figure skater Courtney Lyczynski said: "We would like to build more on the team. Try and get more girls or boys, because we're open to both. We want to one day host a competition."
The Ferris Figure Skating club will compete next in the 2017 Skate on Wisconsin Saturday, March 4, and Sunday, March 5, in McFarland, Wisconsin.
This event features such teams as the University of Michigan, Michigan State University, Oakland University and several others.