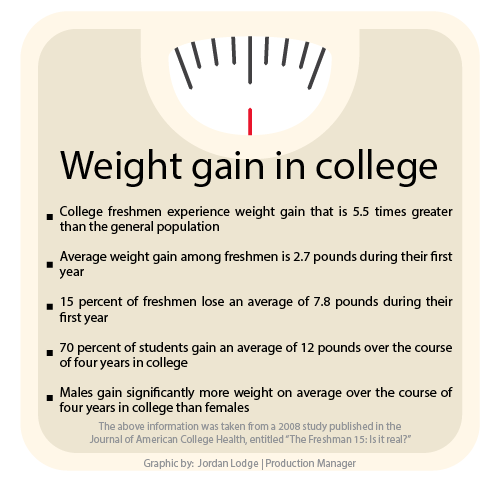 "I think it's very real, especially if you have a lot of homework and you have a very hard major. I mean with biology, it's been really rough. So, I haven't been able to go to the gym as much as I wanted because academics come first," said Ferris biology senior Sadie Baker.
Ferris plastics technology and engineering sophomore Sarah Colburn also agrees that the freshman 15 is a reality.
"When you're here, you have so many different food options and you have so much freedom it's kind of hard to differentiate on what you should eat versus what you are eating," Colburn said.
In the study "The Freshman 15: Is it real?" conducted in 2008 and published in the Journal of American College Health, it was found that freshmen in college experience a weight gain that is 5.5 times greater than what is experienced by the general population. But is it as drastic as 15 pounds in one year?
Luckily, according to the study, the average weight gain among freshmen was 2.7 pounds and, even though half of the participants did gain weight, 15 percent actually lost weight with an average of 7.8 pounds lost for men and seven pounds for women.
Don't get your hopes up just yet, because a different study, "Changes in body weight composition and shape: a four-year study of college students," published in Applied Physiology, Nutrition and Metabolism, found that over the course of four years in college, 70 percent of students typically gain 12 pounds, which is quite close to the fearful 15.
"Yeah, I definitely agree. It wasn't all in one year that it happened to me, it's just been kind of the last four years, you know, I've just put on a few pounds here and there," Baker said.
The study concludes that due to the increase of obesity and normal weight obesity among the college population, colleges should advertise more to promote healthier lifestyles choices on campus.
"If you don't realize it's a problem, then it's going to keep happening," Colburn said.
Baker concluded that avoiding this weight change can be as simple as picking healthier food options when at the dining hall, or one can take more challenging measures.
"I purposefully go to the grocery store when I'm not hungry. I go and I buy only healthy things so that I have no option when I'm home. I can only eat healthy," Baker said. "Also, even if you're studying really hard and everything like that, at least try and get out and do something two or three times a week to at least stay at the weight that you're at."