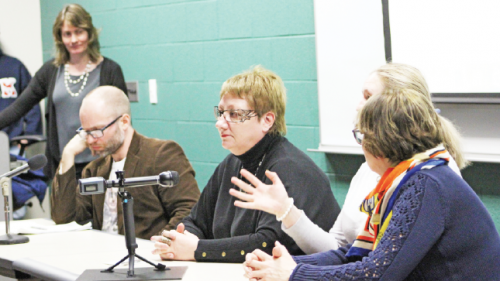 To say that it was standing room only at Ferris' panel discussion of Russian and American relations would be an understatement.
Attendants filled chairs first before standing along the walls, sitting on the floor and even spilling into the hallway to hear the discussion.
The event, titled "Trump and Putin: A Permanent Reset in U.S. – Russian Relations," was part of the Political Engagement Project's "Passion for the Past" series and was hosted Tuesday, Feb. 21, in IRC 107.
Elena Gavrilova and Olga Zinnurova, who are professors at Kazan Federal University, joined Ferris history professors Tracy Busch and Christian Peterson in the panel. The Russian guests had their thoughts translated by Ferris adjunct English professor Lilia Caserta.
"With Trump, nobody expected him to win in Russia. It was really quite surprising to everyone. It shows that America is very different and very unique. It shows that America is very capable of change," Caserta said on behalf of the Russian guests.
At one point, Peterson was asked to name the five most significant foreign relations events between America and Russia from the fall of the Soviet Union in 1991 to the present. The election of President Donald Trump and talks of Russia's involvement with America's presidential election both ranked within Peterson's top five.
"The extent of Russian interference in the 2016 election is a huge deal. No matter what the actual truth of it is, that it's something that touches a very sensitive subject in this country," Peterson said. "In an interview [Trump] basically made moral equivalency to Russia's foreign policy record and the United States'. For an American president to say that is unprecedented. If Hillary Clinton said that, I have no doubt there would be calls for impeachment in the senate right now."
A major theme all panelists touched on is that regardless of what happens in political offices, stripping away politics and connecting person-to-person is possible.
"Russians have a very skeptical and very cynical perspective on their own political system. Russians separate very clearly politicians and average people," Caserta said on behalf of the Russian guests. "American people in general are very much like Russians. They're warm, they're kind, they're open-minded. If we lift the politics out of our everyday lives we can actually achieve much more."
This belief was something of a departure from what is represented in the media and throughout history between United States and Russia.
"Even if Putin's objectives could potentially be a bit nefarious in his own rights, I learned that Russia itself—its people—feel differently and they don't want to be better than America, they want to be equal to America. I'm relieved to know that. There's so much in the media about how Russia is trying to take us over and ruin everything and trying to make everything Russia. They just want to be nice. That's all they want," said Ferris social studies and secondary education freshman Lacey Storey.
Several professors offered students extra credit for attending the event, which helps to explain the packed house.
"Some were there just for the extra credit, but I feel like there were a nice handful that had a big interest in the way it was set up with the questions and the history on Russia from the experts," said Ferris allied health sciences freshman Sierra Wurmnest.
Students saw the event as important because of the expanded perspective it offered on another culture.
"It gives more knowledge to students and lets us know what's going on in the world instead of just what's going on in our state or our little town. It gives us big perspective on different people and different information," Wurmnest said.
"Ferris is very open to everyone from everywhere. I have witnessed nothing but love and care for people who come from all over—from this state, to other states, to other countries," Storey said. "I think things like this are important to keep that environment alive by giving people a chance to see things from another side."