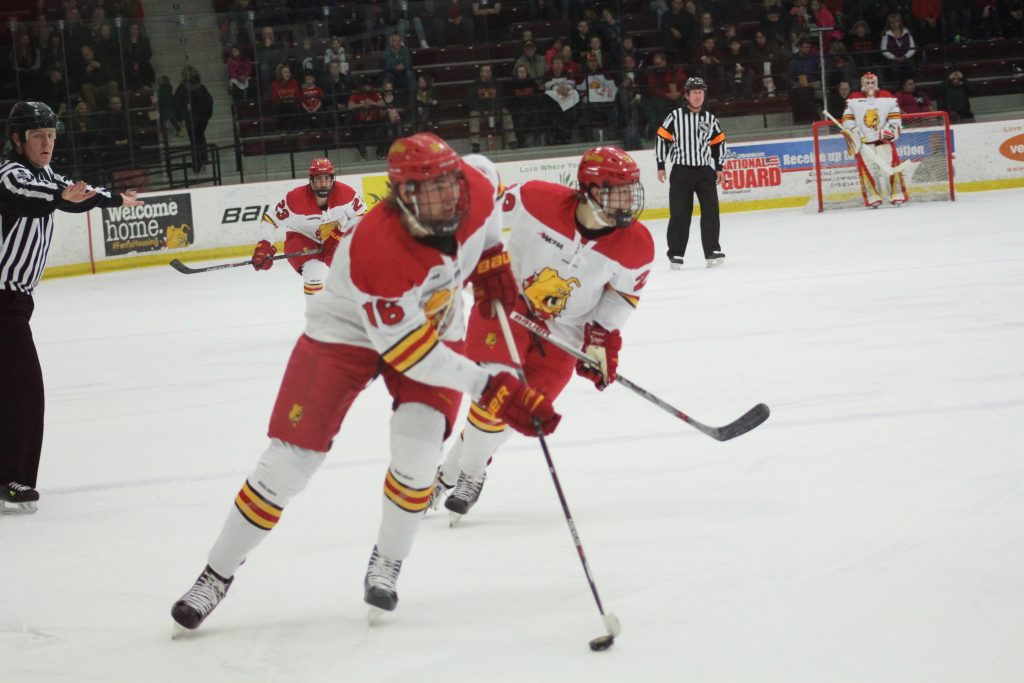 At fifth place in the conference, Ferris State hockey is set to take on fourth place Bowling Green State University in the first round of the WCHA Playoffs.
The Bulldogs and the Falcons have already met four times during the regular season where they split both weekends, giving the Dawgs a 2-2 record against their first-round playoff opponent.
Bulldog hockey Head Coach Bob Daniels sat down with FerrisStateBulldogs.com to talk about his expectations for the weekend's playoff series.
"I certainly wouldn't be surprised if this series with Bowling Green went three games, and I'll tack onto that, I wouldn't be surprised if a couple of them went into overtime," Daniels said. "This is going to be a tough series for both programs."
Ferris State lost the first meeting of the season on the road on Nov. 4 after Bowling Green got out to a quick start on the Dawgs, finishing Ferris off with a 4-1 victory. The next night saw Ferris grab the early lead, taking it to the Falcons with a 3-1 road win.
"Bowling Green is a very good hockey team and they have been for a number of years, we're a very good hockey team and we have been for a number of years," Said Daniels. "Neither team is a stranger to playoff hockey, I'd expect this to go to the wire."
The second matchup of the regular season, which came at home on Jan. 27, also started off with a Bulldog loss, though this time the Falcons beat the Dawgs in a 3-2 overtime contest with a quick OT goal. The next night saw Ferris State get the upper hand with a dominant 5-0 win, something the Dawgs hope happens again.
In their first-round playoff matchup against the Falcons, the Bulldogs will be underdogs on the road, something they didn't have to worry about last season. Junior defenseman Tyler Dorantes is embracing the underdog title and hopes to make a statement out of it.
"We went to Bemidji State my freshman year and we were able to win both, last year was nice because we got two extra games at home versus Northern Michigan, but fortunately for us, we're playing good hockey right now," Dorantes said. "Collectively, we are going to embrace the environment, go have fun, and hopefully win a pair of hockey games while we're there, too."
Dorantes is referring to last season's first-round home sweep of Northern Michigan which advanced the team to the Final Five. Playing on the road this year, Dorantes knows they're going to have to work hard against Bowling Green to come home victorious.
"They're a physical team, so we are expecting a fun and intense weekend of hockey," Dorantes said. "We got a taste of winning last year and have that same itch again this season, and fortunately for us, we were able to win a game in Bowling Green's building this year already, so we know we can do it. We just need to execute."
The first-round playoff action will begin at 7:07 p.m. on Friday, Mar. 3, at Bowling Green State University with game two of the series on the following night, same time, same place. If the teams split the first two games, the tiebreaker will take place at 7:07 p.m. on Sunday, Mar. 5, on the Falcons' ice.