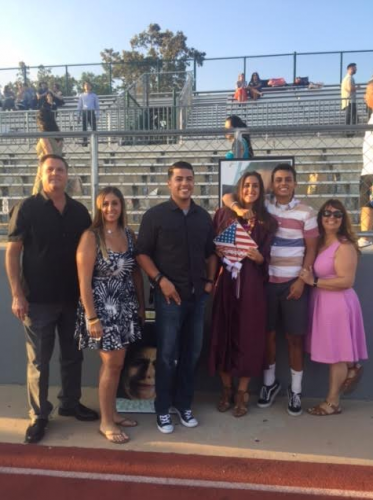 Katrina Merrick is easy to spot walking across campus in jean shorts, a T-shirt and sandals. Sometimes, she throws a jacket on for good measure to protect herself against the bitter Michigan cold in February, but Merrick, a Ferris elementary education freshman, is used to the warmth of Southern California.
Besides the warm climate of Claremont, California, another thing that Merrick misses from home is the abundance of Mexican culture.
"I was taught from a young age to be proud of being Mexican," Merrick said. "Coming from a place like Southern California where I'm surrounded by the Mexican culture constantly, to a place like Big Rapids where there's not much diversity, I've become more appreciative of it whenever I go home."
Merrick was recruited as an outfielder for the Ferris State University softball team.
"Softball was pretty much the main reason why I wanted to come to Ferris. Coach King was out recruiting at a tournament that I was at and that's how I got familiar with the school," Merrick said. "When I came out to visit, I really liked that the school was big enough to see or meet new people everyday, but still small enough to where you can always see some of your friends around."
Most of Merrick's family lives back in California, although some of her relatives reside in cities in Mexico such as Tijuana, Mexicali and Culiacán. According to Merrick, her grandmother immigrated to the United States in 1960.
"My Grandma came to the U.S. back in 1960. She lived near the Arizona border, and border patrol allowed her to cross back and forth for work. Then came a time where the border patrol warned her that they were going to have to start getting more strict, and so she decided to stay in Arizona for better opportunities," Merrick said.
Since coming to U.S., many of her relatives are very successful, having jobs such as doctors, nurses, police officers, lawyers and factory workers.
Besides school and softball, Donald Trump and his campaign targeting immigrants is another source of concern for Merrick. According to Trump, he vows to deport all of the 11 million Mexican immigrants who do not have proper documentation and "build a wall" between the United States and Mexico. In addition to this, Trump has added thousands of United States Immigration Customs Enforcement (ICE) agents, and is tightening up laws in order to accomplish this.
"For those here illegally today who are seeking legal status, they will have one route and one route only. To return home and apply for re-entry like everybody else under the rules of the new legal immigration system that I have outlined today," Trump said. Trump was also quoted saying that Mexico is "not sending their best" when it comes to Mexican immigrants and later referred to them as "rapists" who are bringing "crime" and "drugs."
Merrick said the thought of her being torn from her family members is a persistent fear that she carries with her every day.
"It scares my family and me quite a bit. With my Grandma not actually being a U.S. citizen and enjoying the occasional trip to go and see my relatives, my family fears that she won't be allowed back into the U.S.," Merrick said. "Sure, she has her green card and we aren't allowing her to leave the country, but Trump is unpredictable."
According to the 2014 Diversity at Ferris Report, there are 556 Hispanic/Latino students enrolled at Ferris State. This is 3.81 percent of the student body. Ferris State Vice President of Diversity and Inclusion David Pilgrim wants to continue to make these students feel comfortable here at Ferris.
"The wall talk has caused some stress among those students. How could it be otherwise? For the last several years, the university has had many initiatives directed toward Mexicans and Mexican Americans. All of those initiatives grew out of our relationship building with many segments of Latin@ culture," Pilgrim said.
Despite Trump's promises about immigrants, Pilgrim remains optimistic that Mexican American students at Ferris will feel welcome and continue to thrive.
"My hope is that these relationships will benefit us as we continue to try to recruit Mexican American students, and equally important, to help them be successful here."
Merrick has flourished here at Ferris and is looking forward to her first softball season as a Ferris State Bulldog.
"Being here has been an absolute blast so far," Merrick said. "By being on the softball team, it made the transition from California to Big Rapids easier because all the girls were incredibly friendly and I was able to become fast friends with all of them. Although, I can for sure say that the cold weather isn't my friend at all."
Assistant Coach Jasmine Watson also thinks Merrick is adjusting well.
"Freshman year is always a challenge for anyone, but now you add being far from home and being an athlete and that makes things a bit more complicated," Watson said. "I think being an athlete helps with adapting because you immediately have 20 plus people who you can call your family."
Although Merrick is loving life here in Michigan, the thought of her grandmother being torn from her family is constantly in the back of her mind.
"I can't even explain the heartbreak I'd feel if my grandma had to stay in Mexico and I constantly worry about it," Merrick said.