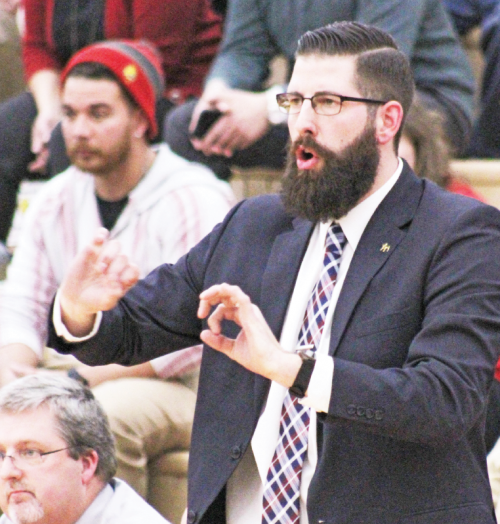 Former athletes have a history of returning to their respective sports as a coach. While some of them rely on their celebrity to land a job, Ferris men's basketball head coach Andy Bronkema has worked his way from the ground up.
The son of a coach turned athletic director, Bronkema indulged in all things sports in high school before becoming an All-American athlete at Cornerstone University and he had no doubt what he wanted to do in the future.
"I knew when I was younger that I wanted to be a coach," Bronkema said. "I loved playing basketball and I can remember winning the state championship in high school and thinking about how good it would feel to coach."
Whether Bronkema was dribbling down the length of the court or obsessing over NBA stars like Chris Webber and Michael Jordan, he was always buried in a world of basketball.
Things slowed down for Bronkema after college as he picked up a job as an elementary school teacher and retained that gig for three years before becoming an assistant coach for the Ferris men's basketball program.
Six years later, Bronkema is enjoying an immensely successful basketball season and was recently crowned head coach of the year in the Great Lakes Intercollegiate Athletic Conference (GLIAC).
"The success that our team has had is really a credit to the players," said Bronkema. "As honored as I am to accept the award, the credit has to go to this team. This group of guys is so talented and without them I wouldn't be getting any accolades."
Blowing through this year's GLIAC tournament with ease, Bronkema's Bulldogs have received plenty of attention for the dominance that they continue to display on the court.
While the team is in the spotlight, there is one thing that may be trending even more than the Bulldogs' success and that's the facial hair of Bronkema.
"There is no superstitious reason for me growing out my beard," Bronkema said. "I'm a goofy guy and this beard provides a great conversation starter. I am preparing for an appearance on Duck Dynasty though."
While it may be a while before Bronkema's television career takes off, it appears he has a long future in coaching ahead of him.