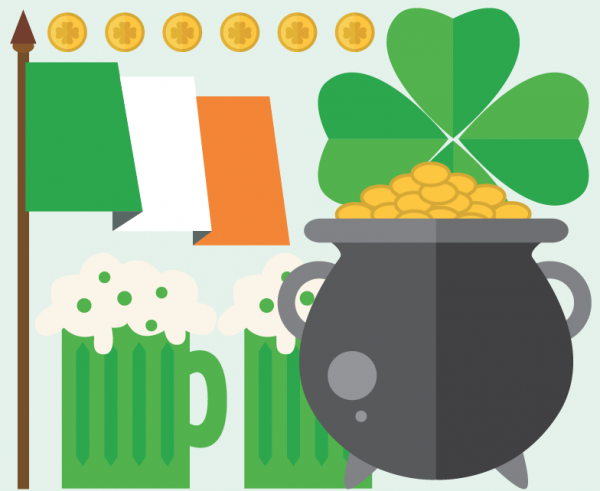 It's almost time to break out the green tuxedos, dresses, socks and Leprechaun hats to get down with St. Patrick's Day.
St. Patrick's day, a holiday known in the United States for copious amounts of alcohol consumption, falls on a Friday this year; perfect for students who plan on celebrating their real or imaginary Irish heritage in full force.
However, the holiday has much more holy origins. The Roman Catholic St. Patrick's feast day originated in the early seventeenth century and celebrates the most prominent patron saint of Ireland, Saint Patrick. Originally a religious celebration, St. Patrick's Day has grown to include Irish-themed parades, food and drink, with festivities spanning worldwide.
About 33 million Americans claim Irish history—about 10 percent of the population—but St. Patrick's Day celebrations are never limited to just the Irish.
"Irish on Ionia is gonna be pretty big," said Ferris music industry management junior Hunter Gamble, who's still unsure if he'll be attending.
Irish on Ionia is an annual St. Patrick's Day street party held downtown Grand Rapids.
Gamble said he's not particularly passionate about celebrating the holiday.
"I have a couple of friends who are Irish that go all out for St. Patrick's Day, but I've never been real big on it," he said.
Other students such as Ferris music industry management senior Nicholas Robertson, are more "Irish-at-heart" than anything.
"Honestly, I like it," Robertson said, who doesn't have any concrete plans yet. "I'm not Irish at all, but I like to see my friends have a good time on these kind of days and it'll be fun to join them."
As for local St. Paddy's Day events, spirited crowds can be expected at Big Rapids favorites like Star Shooters, which will bring back its Kegs and Eggs at 7 a.m. for those who prefer beer with their breakfast.
After some food, students can then trial their livers with 100-ounce green beer towers and a slew of Irish drinks at 52 Sports Bar, which will celebrate with extended hours and other Irish gimmicks. The best "Lad and Lass" costumes will be awarded a prize.
The Gate will also hold a Pot-o-Gold bowling tournament starting at 10 a.m. Saturday, March 18, at their new location on 3rd Ave.