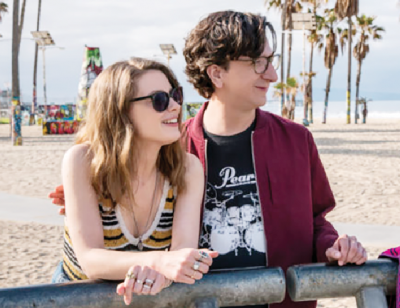 When I was just about to complete 11th grade my pop culture teacher decided to award students with satirical or comical plate awards. I was awarded "Least Awkward," and yes, this was satire.
On Friday, March 10, the Netflix original series Love released its 12-episode second season. The series premiered on Netflix in February of 2016. The Judd Apatow creation stars Paul Rust and Gillian Jacobs and follows their realistic, rocky and down-to-earth relationship.
Rust plays Gus, an awkward film nerd who is extremely cautious and rarely lives life on the "edge." Jacobs plays Mickey, an abrasive, sex, drug and alcohol addict who time after time makes self-destructive decisions. Gus and Mickey are polar opposites of each other. Gus is portrayed as the stereotypical "nice-guy" and Mickey is the "cool" or "bad girl," although each character is much more complex than that.
If you have yet to watch this series, you should. First off, props to Apatow and Rust for naming the series Love, when it's totally not about love. Apatow has made his career with movies and series with main characters with weak relationship skills, such as Freaks and Geeks, The 40-year Old Virgin, Anchorman and just about every other big Frat Pack film.
Everything about Love is real. Love is slow-paced. The series advances, but does not jump, like real-life. Days are not skipped so viewers see the daily transition of the two main characters. About halfway through season two, the storyline has only advanced about three to four weeks ahead of episode one. In that time Gus and Mickey have dated, ended it, dated other people, hooked up again but decided separation for awhile would be best and again got back together without giving their relationship a label. Does this not sound like what dating is truly like for young adults living in the up-tempo and to date Los Angeles? There is nothing perfect about their relationship.
This series is so good because Gus and Mickey are very relatable to young adults —specifically Gus to me. Gus has shaggy hair and wears big-framed glasses, t-shirts with an open flannel, skinny black jeans, drinks craft beer, has sing-along sessions with his buddies and has incredibly weak communication skills when speaking with just about anybody. Mickey struggles with addiction and keeping relationships with just about anybody, but has a great job and home in Los Angeles. Every time something goes well for the two lovebirds something brings them back to Earth, usually from Gus or Mickey interfering with their own lives. The relationship becomes continuously more awkward, mostly due to Gus' hilarious awkwardness
This series is not made to Netflix and Chill, but it's perfect for binge watching. A viewing session will become a binge and every time Gus does something awkward or Mickey sabotages one of the few stable things in her life, you will feel for the characters, because something similar probably happened to you, because like I said earlier, Love is real.