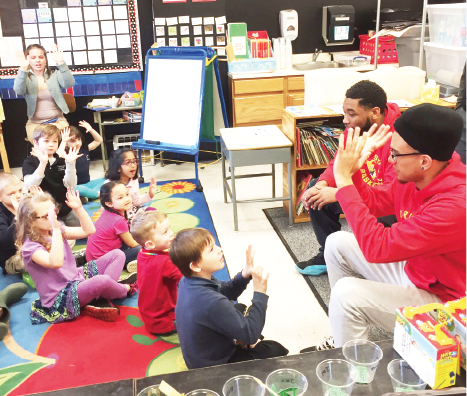 Not every college student has the chance to be seen as a superstar, but when Ferris State's athletes spend time with children of the community, that's exactly what they are.
Giving back to the community is something Ferris athletes are accustomed to, as many collegiate athletes are often requested. Chris Okoye, a junior defensive tackle on the Bulldog football team, went to Riverview Elementary School in Big Rapids during Black History Month to read them a story about African American abolitionist Sojourner Truth.
"I just love going out there and being able to make the kids smile," Okoye said. "They have a really good time when athletes come in. As soon as we walked in they started jumping around and smiling."
Okoye has plans of going into politics in the future and said that having the opportunity to be able to reach out to kids on their level, stepping foot into their world, is a great experience.
The Ferris State men's basketball team also went to the elementary school over their spring break, playing on the playground and reading to kids for March is Reading Month. Sophomore center Zach Hankins said that seeing how much the kids enjoy the Bulldogs' presence is his favorite part.
"We get to make a positive impact on their lives and just spend time with them, and they love it," Hankins said.
In the midst of the NCAA Division II Tournament, the Bulldog men have a lot on their plate, but serving the community in such a manner is a rewarding experience.
"It feels good. It adds a little responsibility to how I conduct myself," Hankins said. "It's easy to forget that there are people watching you, so it is a reminder to be the best person I can be, and if I'm lucky enough to become someone's role model, I can be a good one."
The women of Ferris State volleyball are also heavily involved with local youth. The program hosts camps for young girls looking to improve their game, working closely with the kids. Sophomore right-side hitter Hannah Guy's favorite part about hosting the camps is seeing how excited the kids get about the sport of volleyball.
"Maybe it sounds super corny, but when a kid comes up to you at the end of camp and tells you how much fun they had, it's so rewarding," Guy said. "It's super cool being looked up to because I remember being the one that looked up to others when I was a kid."
There are many ways for people to give back to the community, even if it means giving up an hour of time. Okoye said that athletes never came in and did such things for his classes when he was a kid, but he thinks the experience he's giving these young kids now is invaluable.
"I think this is very important because these kids get to put a name with a face of the athletes that they're watching and looking up to," Okoye said. "Young children get to learn the importance of giving back, and they get to see what it takes to teach that next level."