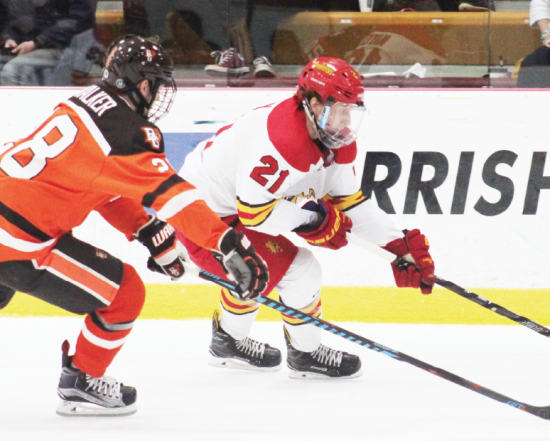 The Bulldogs fell to Bowling Green 2-0 in the first best-of-three round of the Western Collegiate Hockey Association (WCHA) tournament, thus ending their season.
The fourth-seeded Falcons outscored Ferris by a combined 11-4 in Bowling Green, Ohio. The first game on Friday, March 3, ended 6-1 after a 4-0 Falcon second period, marking the Bulldogs' largest loss of the season.
"That period might have been the worst we have played all year," Head Coach Bob Daniels said.
Game two began much like the prior-day matchup with an early 2-0 Falcon advantage, but Ferris roared back with three goals to take a 3-2 lead. The Dawgs led until the 17th minute of the third period when Bowling Green rattled off two power play goals. The Falcons struck again on an empty net in the nineteenth minute to win 5-3.
Senior forward Gerald Mayhew was given a five-minute penalty for a check to the back with under five minutes left in the game. As a result, Ferris was without their leading scorer the rest of the game and saw the season end in minutes while shorthanded.
"It was a questionable call but I guess all coaches see questionable calls," Daniels said, "That was a tough penalty to take."
Ferris finished its turbulent season 13-19-5 which is the worst record in the program's last decade. The Dawgs started off 0-7-1 but managed to earn a fifth-seed in the WCHA tournament after finishing their last seven regular season games 5-1-1.
Despite their incredibly slow start, the Dawgs grinded through a season that seemed destined to be a complete loss. They stuck with the mindset of getting better and not getting discouraged in the face of undesirable outcomes.
"I've been impressed with our 'stick-to-itness'," Daniels said. "A lot of teams that start 0-7-1 would have buckled, but our team stuck to it and continued to improve."
The Bulldogs will be sticking to it after a two-week hiatus when they get in the weight room on Monday.
"When we start up again next monday, in terms of our offseason conditioning, that's the start of the new year and that's when we start pursuing, hopefully, another championship," Daniels said.
The development of the young players, as true in most cases, will be crucial to Ferris' success next year. Four seniors will graduate including Gerald Mayhew, Chad Mcdonald, Jared VanWormer and Ryan Lowney, so new players will need to step up and fill those positions.
"Going into next year we need some guys to step up and elevate their games," Daniels said. "They can't come in with the attitude that 'we're going to start up where we left off.' They have to have the attitude of 'we have to pick up where we started out' as in paying attention to detail in practice."
Daniels expects junior forward Mitch Maloney and sophomore forward Corey Mackin to make huge strides next year. Both progressed from the previous season to his year and wound up second and third respectively in goals on the team, but Daniels wants them to make another leap forward and push for more consistency.
The 2016-17 season is in the books and all that's left is to put the work in for next season when the Bulldogs will look to rise again to the top of the WCHA.