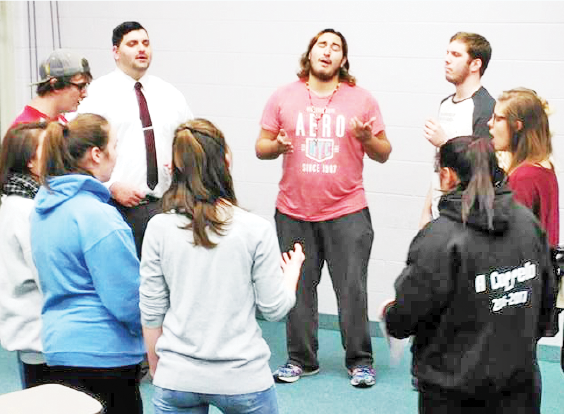 As the doors of room 122 cracked open and students' laughter echoed into the halls, Ferris Vibrato Vibes music director Andrew Mass hit a note on a nearby piano and the room fell silent.
One, two, three…
The Ferris Vibrato Vibes is an acapella organization that welcomes students who have the same passion. Although learning music takes dedication, they also consider a strong connection and a little bit of fun as top priorities for their group, and Ferris Vibrato Vibes' president Tyler Karum created something for just that.
"I was like, 'oh my God, Pitch Perfect,'" Ferris nuclear medicine junior Maria Bortom said.
This is Bortom's second semester since she discovered the Vibrato Vibes on a flyer in the University Center. Singing since she was 14, Bortom was thrilled to have connected with such a fun, dedicated group of people.
"Hey guys do you want to hear Ferris acapella sing?" Bortom said as she recalled one of her favorite aca-bonding moments—when the acapella group performed an impromptu concert for nearby Ferris students.
Aca-bonding is an event that Karum created and hosts with the goal of bringing his acapella group closer together. Rock Band video game competitions, movie marathons and karaoke are typical activities that take place during these times.
Karum said creating a strong personal connection and friendship with group members will not only be good for the group overall, but will allow members to feel comfortable enough when it comes to discussing issues that arise during their Wednesday and Thursday rehearsals at 7 p.m.
This was shown during rehearsal as members voiced concerns and suggestions for their upcoming performance, as well as telling personal stories in hopes of connecting better to the music that was in front of them. Creating a visual and creating emotions not only for themselves, but for their audience was a goal constantly discussed throughout the night.
Along with touching the hearts of their audience, the Vibrato Vibes have managed to touch the hearts of their members as well.
"Loving" is the word Ferris digital software engineering freshman Izzy Ledesma used to describe the Vibrato Vibes.
"Everybody's serious about music, yet we have fun with it," Ledesma said. "I felt like I belonged."
One of his favorite things about the Vibrato Vibes is how welcoming and inclusive they are with new members, a goal Karum likes to stress during his aca-bonding events.
The group of 13 are open to new members and hope to continue to extend their aca-family.
Students can join the Vibrato Vibes by auditioning at the beginning of each semester.
More information about Vibrato Vibes can be found on Ferris State's OrgSync page.