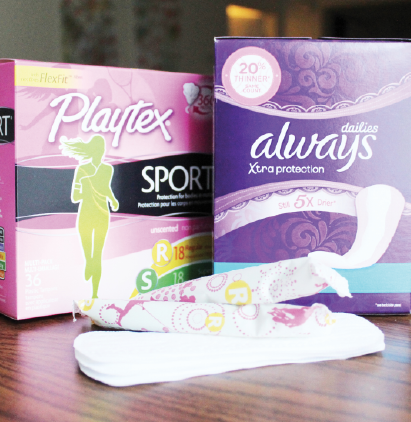 Ferris State NOW (National Organization for Women) have recently placed decorated boxes throughout campus to collect feminine products for women in need.
NOW has 500,000 contributing members and 550 chapters in all 50 states and the District of Columbia, making it the largest organization of feminist activism.
According to Ferris first year pharmacy student Patti Whiting, Ferris State's Chapter of NOW has been around for some time, but has just begun to recharge the organization.
"We're working to educate people (on campus) about women's issues and sexism," human resource management junior and president of NOW Victoria Mason said.
According to Whiting, NOW is collecting feminine hygiene products like pads, tampons, menstrual cups and feminine wipes throughout the month of March. All products will be donated to Degage Ministries in Grand Rapids.
They hope to make this an annual event every March as a part of Women's History Month.
"There are about 900 homeless people in the city (Grand Rapids) and about 300 are women, so there are 300 every month who needs these products," Mason said. "Feminine products can cost anywhere between $8 and $20 and that might be what someone brings home in one day or the cost of food for a day. We don't think that someone should have to choose between eating or that necessity."
"Women's health and homelessness are two issues that affect everyone within a community, and it's extremely important to mobilize out efforts to help those in need around us," Whiting said.
The group developed the idea after a video shared to their Facebook page about what women in New York had to resort to to take care of themselves. Items such as socks, old tee shirts and paper towels are often used.
"After watching that, we realized that this is something that nobody should really have to go through," Mason said.
"We're hoping individuals will donate— and both men and women. This doesn't just affect women, it affects an entire community," Mason said.
Feminine hygiene products can be dropped off in the University Rec Center, the OMSS office (FLITE 159), the CLACS office (UCB 121) and the Greek Life Office in CLACS from March 13 through 31. Monetary donations can be made as well through CLACS.