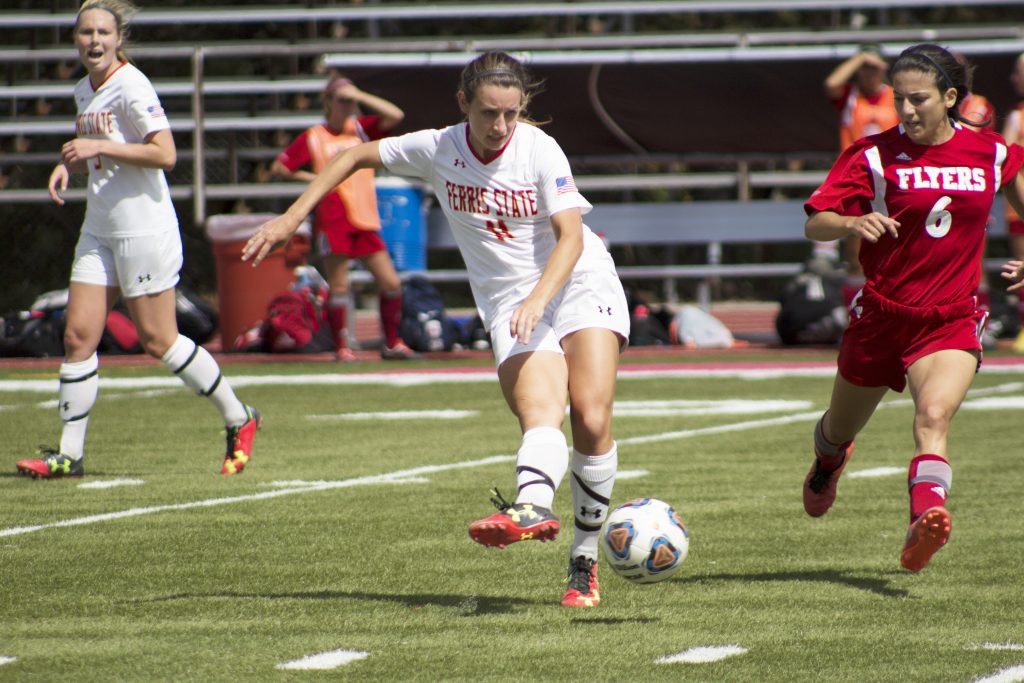 Spring action is underway for the reloaded Bulldogs as they prepare for the fall season.
Ferris made it to a school record seventh-straight GLIAC tournament last year despite going 6-8-4 overall. The young core of this team remains intact losing only two seniors in Kate Kelly and Meredith Smith. The remaining Bulldogs and the 15 incoming freshman will endure a grinding spring that began with a 7-on-7 round-robin tournament in Mount Pleasant, Michigan against Central Michigan, Northwood and Northern Michigan.
The Bulldogs split into two equal teams in the tournament to enable players to gain experience with other players as the goalies rotated between teams.
"We had to learn to play quickly because the fields were small and the teams played fast. The smallest mistakes would turn into goals. We showed some weak spots, but it helped us learn which parts of our game we as a team had to improve on," Ferris freshman goalie Grace Kraft said.
Ferris went 14-5-1 and made it to the GLIAC semifinals in 2015. However, several key seniors graduated and forced young players to take critical roles in 2016. After a rebuilding year, the Bulldogs have gained a trust and cohesion with each other.
"I think we're definitely gelling well now. We've been playing together and it helps our team as a whole to build knowing we have that trust in each other," Kraft said.
Head coach Andy McCaslin and his coaching staff wanted to challenge their team this spring and they're working towards that by scheduling Div. 1 schools and other top Div. 2 programs.
"The spring is a great time to look to improve when we can while facing outside competition and we have some very strong teams we're facing this spring," McCaslin said.
The Bulldogs have five remaining games this spring including the annual Alumni Game on Saturday, April 8. Teams left on their schedule include Western Michigan, Oakland, Alma, Siena Heights, Hope and Spring Arbor.
First in line is Western Michigan in Kalamazoo March 18, where Ferris will play its first 11-on-11 action since the fall season.