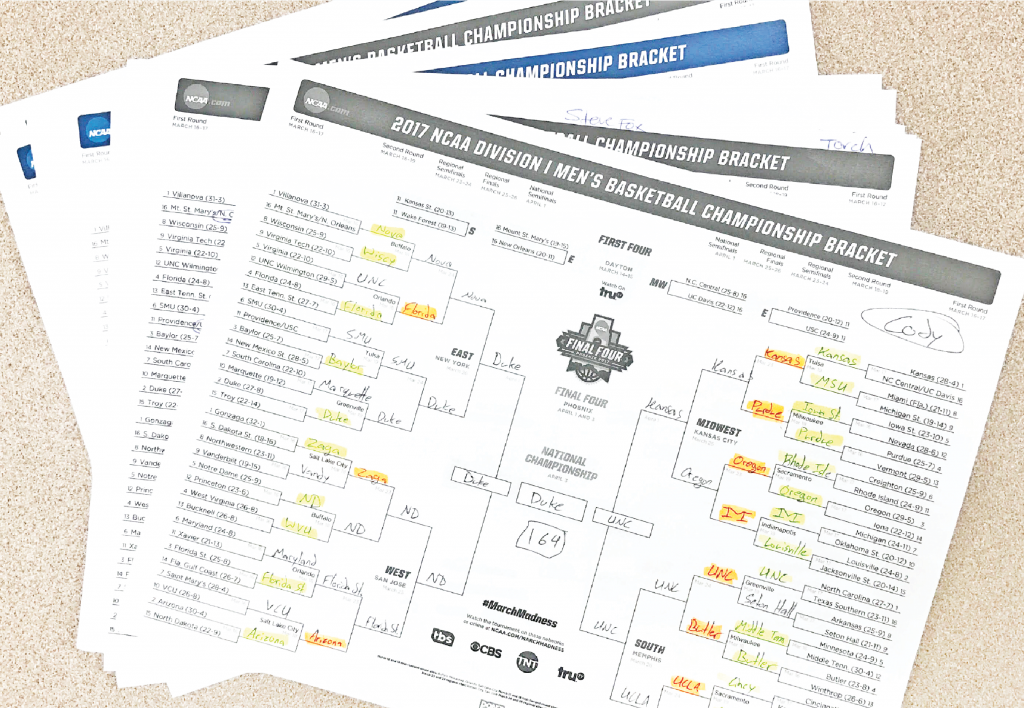 Finally, the NCAA Division I men's basketball tournament has returned to entertain all of us March Madness fanatics.
Another month of filling out brackets and staying glued to every TV, computer or phone screen around to see which of your chosen teams has been bumped from the tourney is in full effect.
Some people fill out one bracket just for fun, some people fill out ten brackets in hopes of winning some cash, but only a select few ever choose correctly early on thanks to smaller teams upsetting their brackets.
Whether it was 15-seed Lehigh taking down the mighty two-seed Blue Devils just miles away from Duke's campus in 2012 or 15-seed Florida Gulf Coast earning the Dunk City nickname in 2013 for their impressive win over Georgetown, the tournament never lacks excitement.
Ferris men's basketball redshirt freshman point guard Greg Williams is a self-proclaimed March Madness addict who fills out several different brackets every year.
"It's the best time for college basketball because anything can happen and you've got these college players giving it all they've got," Williams said. "It's intense, exciting, unpredictable and the teams just step their game up and go to that next level for the tournament."
With a March Madness app on his phone, Williams has all his picks available to him at the touch of a button. Flipping back and forth between games on the TV when he gets a chance to chill out on the couch, Williams grabs the snacks and watches basketball all day.
With a Final Four consisting of Duke, Arizona, Kansas, and the University of North Carolina, Williams is picking UNC to go all the way and nab their sixth NCAA Tournament title.
When it comes to picking the right teams, Williams pointed out that it's easy to pick the top-seeded programs, but that's not always the fun way to go about it.
If I'm in a predicament with a pick and don't know which way to go, I always have a look at the competing teams' colors. I'm a big fan of the color purple, so if Northwestern is one of the two teams I'm torn between, I'm going with them and their purple jerseys.
It may not be the soundest technique for deciding the fate of your bracket, but sometimes you should follow your heart when it comes to the tourney.
As for this year's tournament, three of my four Final Four picks may not be the most creative in the field of bracketology, but they're mostly sound picks. For my east and Midwest matchup, I went with what was considered a safe choice in Duke, but followed my heart and chose the Michigan Wolverines to march back to the Final Four.
My west and south matchup won't surprise anyone as I have Gonzaga taking on Kentucky. As a born and raised Michigan fan, I took a huge leap of faith and pinned Michigan against Gonzaga in the contest for the national title.
In a move that broke the very same heart I have been following throughout the tourney, I have Gonzaga leaping past Michigan to claim their first ever NCAA tournament championship in their first ever matchup against the Wolverines in the tournament.
It may not always be the right decision to follow that gut feeling in college basketball, but instead listen to your brain when it come to the madness that is late March. I followed my heart with the Wolverines and so far, I'm safe. But the NCAA Tournament has a knack for unpredictability, which is why we all love it.