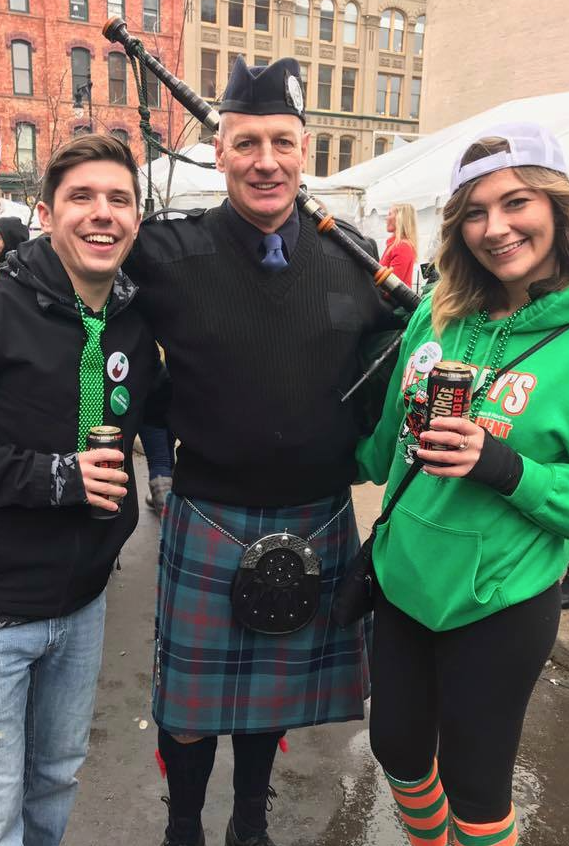 St. Patrick's Day started early for some Ferris students looking to get a nutritious breakfast with a side of green beer, but hold the cries of alcoholism.
The promise of green beer and green eggs at the Gypsy Nickel Lounge had students planning their Friday earlier in the week.
"I'm starting the day at Gypsy at 8:30 a.m. with eggs and kegs—the 'nutritious' way to start your day," said Ferris professional tennis management and marketing senior Michael Manning.
The Gypsy Nickel Lounge opened at 7 a.m. with the sweet aromas of a St. Patrick's Day themed breakfast buffet and, of course, alcohol.
At 7:30 a.m. the Lounge was filled with festive Ferris students, a full bar and a line of students waiting for a table to clear.
Ferris hospitality management senior Maci Palmer was one student who wanted to take advantage of the breakfast buffet, but her hopes were dashed when she arrived.
"I planned to go to Gypsy for breakfast to eat green eggs but it was too packed to get a table before class," Palmer said. "I'm bummed because it's literally the only day of the year you can have a beer with breakfast and not be an alcoholic."
While this was Palmer's first year participating in the alcohol consumption that St. Patrick's Day is known for, Ferris television and digital media production senior Kyle Gilmore recalled his past St. Patrick's Day celebrations.
"I've spent a few St. Patty's Days in East Lansing, which I feel is kind of the ultimate place for St. Patty's Day, but Ferris is cool because it's easier to meet up with and see people you know," Gilmore said.
Aside from wearing "Kiss Me, I'm Irish" shirts, drinking green beer and spending the day with friends, many students discussed drinking before class, after class and even skipping classes just so they could drink as much alcohol as possible.
With events being hosted at Shooters, The Gate and The Gypsy Nickel Lounge, most students planned their early weekends in advance—the Gypsy being the start to almost all those plans.
"[St. Patrick's Day] has turned into a nice money maker for many people. Beer companies spend a few bucks on green dye and make a bunch more money," Gilmore said.