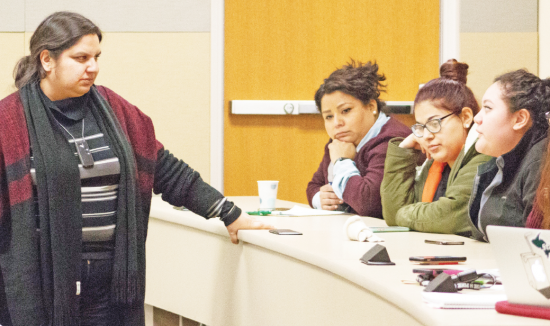 After a five-year strike and a 25-day fast in 1968, civil rights activist Cesar Chavez and the National Farmworkers Association (NFA) won fair wages and working conditions.
The film about the events, "Cesar Chavez," was shown Tuesday, March 14, at 5 p.m. in IRC 120 by the Center for Latin@ Studies.
"Cesar Chavez should have more acknowledgment, and I feel like going to events like this is a way for students like myself to get educated and I think that's important," said Ferris Spanish for the professions and communications sophomore Daniel Rivera.
Chavez was born in Arizona but moved to California to work the fields when he was 11 years old.
"I really felt as if this movie did a great job of showing society about what farm workers had to do," said Ferris biology freshman Amanda Ponce. "It really educates society about how horrible the working conditions were. People don't realize how awful and unfair the workers were treated, but this movie really goes to show the truth behind the movement."
Chavez and members of the NFA obtained success by boycotting various brands of grapes and persuading others to boycott them as well. When the growers decided to export the grapes to Europe to make up for the millions of dollars Chavez and the NFA were costing them, Chavez traveled to England and successfully created a boycott there as well.
"It's part of not just Latino history but history of the United States, and it's something that impacts all of our communities," said Ferris anthropology professor Monica Rodriguez.
"The fight is never about grapes or lettuce," Chavez said in the film. "It is always about people."
Chavez was named Time Magazine's Man of the Year in 1969 and even met with Pope Paul VI. He died in 1993.
"I think that more people should have come to get a little more educated on what kinds of things people have fought for in the past versus what kinds of things we're going to need to fight for now," said Ferris secondary English education junior Rebecca McCarty.
The minimum wage in 1962, when the NFA formed, was $1.15 per hour (which was equivalent to $8.89 in 2013 after inflation). Many farm workers at the time made only 20 to 30 cents per hour, the equivalent to $4 to $5 per hour in 2013.
"These are topics that are still relevant in today's society," Rodriguez said. "He was fighting for better wages, for better working conditions for people, and those are still issues that affect a lot of different communities, not just farm workers."
"I thought it was very important that we had a very diverse group of students come and learn about issues that are relevant in our history and the issues that are still happening today," Rivera said.
Ponce's family, on both her mother's and father's side, worked in the fields.
"All brothers and sisters had to work in the fields, just because it was their only way of putting food on the table," Ponce said. "My grandparents, aunts and uncles all suffered through the terrible working conditions that the movie projected."
Ponce's grandmother has back problems from spending hours in the field bent over picking produce. Her grandfather was diagnosed with skin cancer after working in the sun for several years up and down the east coast. Her father's feet were destroyed by pesticides.
"These are just some examples out of the many of the long-term effects of terrible farm working conditions," Ponce said. "Even though pay is much better today for farm workers, they still spend countless hours working, which wears on their body."
"We draw our strength from the very despair in which we have been forced to live," Chavez said. "We shall endure."