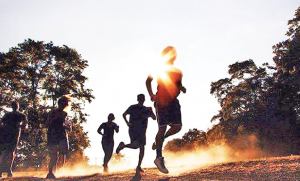 Brand New's quintessential album "The Devil And God Are Raging Inside Me" opens to the lines: "Was losing all my friends. Was losing all my friends to drinking and driving. Was losing all my friends but I got them back."
The loss of loved ones has become a major theme for post-emo rock music, and Sorority Noise's third major release echoes the principle set by Brand New 11 years later. The Connecticut rock band Sorority Noise released "You're Not As _____ As You Think" through Triple Crown
Records Friday, March 17. Mike Sapone, the producer of every Brand New album produced Sorority Noise's newest release.
Before I go any further, if you think the point I'm making is any album of music that echoes influence from Brand New, arguably the best rock band of our generation, should be listened to, you're wrong. Sorority Noise began their career as angsty punks writing songs about mental health, drug use and sex (like Brand New), and as the group matured—and frontman Cameron Boucher was faced with the loss of close friends—their direction changed (like Brand New). It just so happens that the music also resembles Deja Entendu and The Devil And God (as all modern emo-rock music in someway does) because yes, Brand New is the best rock band of our generation.
I guess you could say the point I'm making is music about death is good, and bands seem to dive into that topic around album number three. Kyle Durfey, the lead vocalist of Pianos Become the Teeth said this about writing dark music: "I feel like most of us and most bands we are into tend to write about darker things. It's hard to write when you're happy. This doesn't mean we aren't happy as people." Every song Durfey has ever written and recorded is about his father's struggle with multiple sclerosis and ultimate death and how it has affected him. This came to full form on their third album "Keep You." Likewise, on Touché Amoré's fourth album "Stage Four," vocalist Jeremy Bolm sang about dealing with the aftermath of his mother's passing to cancer for the entirety of the album. Both of these albums are, in my subjective opinion, two of the best rock albums of the decade.
Sorority Noise's You're Not As ____ As You Think is the newest edition to this list of rock albums about the personal struggle of losing loved ones and I strongly recommend giving it a listen. Even though the topic is often dark, it's relatable and fucking rules. Boucher is honest in his struggle and harnesses the feeling of isolation after losing multiple close friends. The music is powerful and uplifting, shifting between smooth atmospheric verses to emotive screamed choruses. Notable tracks include "No Halo," "First Letter From St. Sean," "Disappeared" and "Leave The Fan On." But what really matters is why should students care about this.
Sure, the music is great and no review of the album will make students listen. But what might persuade some is the understanding that dealing with loss is challenging. Death is complex. It's heavy and it's something the human species is forced to suffer from, as we are creatures of emotion.
Music is a form of expression for artists. For listeners, it's a source of entertainment, excitement and comfort. Music is used to cope; it is used for a release. It's comforting to find solace in music with lyrics about loss, as opposed to something like dating, sex, partying and drugs. Don't get me wrong; these are some of my favorite themes of music. But that darker stuff is necessary, too.
We as emotionally fragile college students need to hear somebody sing to us about their honest and heart-wrenching emotions, about the questions they have for those who were gone too soon and will never have the chance to ask. When you hear the questions, the sleepless nights, and with the loss of life constantly on your mind, you know you aren't alone. Somebody else pushed through to document their emotions into powerful rock songs. They made the music for us, the general audience as young adults; just like all popular artists.
Maybe this is not the most popular type of music. It might not be the most "fun." But it's special. It's becoming prevalent for bands that are associated with the current state of rock music that exists because of bands like Brand New to write about loss. As rock music is forever growing, the loss of life will continue and artists will continue to write about it.