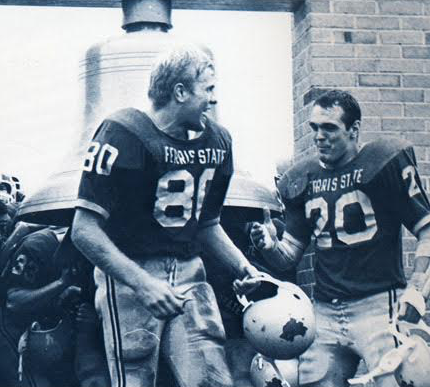 The first undefeated team in Ferris football history was inducted into the Ferris State University Athletics Hall of Fame.
Among eight inductees in the 2017 Hall of Fame class, including six athletes from different sports and a highly successful coach, the 1968 football team is the only team in Ferris history to finish a season with no losses.
Ferris was far from a powerhouse in the mid-1960s. From 1964-67, the Dawgs went 1-26-4 in the worst four-year stretch in Ferris football history. After years of being deprived of success, the 1968 Bulldogs went from winless to undefeated.
Head coach Bob Leach inherited a winless team in 1967 and saw his team go 0-7-1 in his first year. In order to turn the program around, Leach recruited older and younger athletes, veterans and African-American players when most schools did not. The result was a team that Ferris then-quarterback Al Beamer described as a team of misfits.
The 1968 season started as if the streak of 'tie-or-lose' was going to continue. The Dawgs drew against Taylor College 13-13 in their season opener. However, they rattled off seven straight victories commencing with a 29-28 win over Div. 1 school Illinois State.
Members of this 1968 squad have contributed to the growth of the Ferris program by establishing a scholarship endowment that benefits football student athletes. By providing more scholarship money and raising Ferris football prestige, the 1968 team allowed for players like 2017 Hall of Fame inductee running back Chris Pulliams.
Pulliams garnered All-American honors and ran for a school record 1729 yards with 23 touchdowns in 1995 en route to an NCAA Div. 2 semi-final appearance and 12-1 overall season. His rushing record still holds today.
Other members of the Hall of Fame Class of 2017 are Kathryn Bobbie (women's golf, 1999-03), Steve Fountain (cross-country and track, 1974-79), Kathy O'Connor (women's volleyball and basketball, 1990-93), Jody Gifford (softball 1996-99) and Scott Schultz (tennis head coach and administrator, 1982-89).