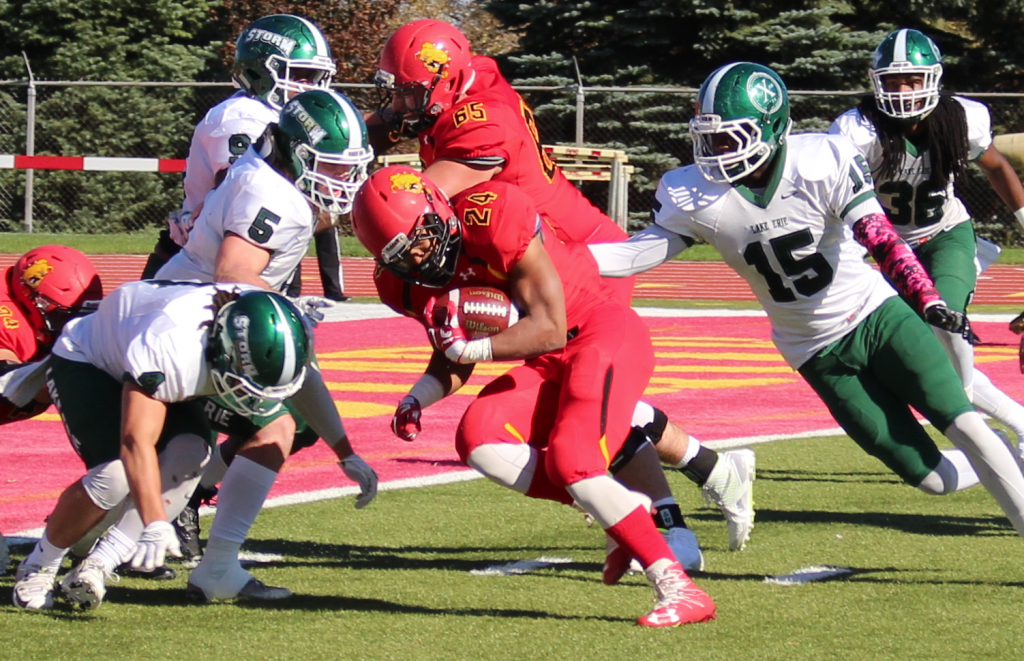 Spring football has begun with wide-eyed freshman excited for their first college action and veterans strolling into practice like they are clocking in for another day at work.
The Bulldogs will look to follow up their historic 2016 NCAA Div. 2 semifinal appearance this fall. Before returning to that height, there are question marks on the team that need to be addressed for them to be prepared for the season. Here are the four keys to success according to the Bulldogs with high hopes for the 2017-18 season:
Reggie Bell's Health
Junior quarterback Reggie Bell has a torn labrum in his throwing shoulder and may not be able to throw for three months. This is a blow to the Bulldogs as they enter spring training with only one quarterback that has thrown a pass in a college game the last two seasons. Redshirt freshman Travis Russell completed three-of-nine passes in five game appearances in 2016 and is likely Bell's leading competition for the starting job in the fall.
Spring is when the mental foundations of a team are molded and chemistry is built. It's a fine tune before the season. Without being able to throw to his receivers, Bell will lose out on precious time to build chemistry with his teammates. However, Bell has shown a determined character and will to succeed and will go through the mental preparations necessary to get him ready.
Bell has special talent with the ball in his hands, and when healthy, will be ready to compete at a high level. The only variable in the scenario is how will Bell be able to assimilate with his team with depleted time on the practice field together.
Bell started for the Dawgs most of 2016 until injury limited his play and eventually sidelined him in favor of senior Trevor Birmingham who thrived en route to a national semifinal appearance. Despite the injury, Bell threw for 2,085 yards and 11 touchdowns while adding 1,217 yards and 16 touchdowns rushing as a Harlon Hill Trophy candidate. Bell is by far the best runner of the quarterbacks competing for the starting job in head coach Tony Annese's quarterback run-heavy offense for 2017.
Stay Stout on Defense
With several great running teams in the GLIAC such as rushing leader Wayne State and Grand Valley State with sophomore sensation running back Marty Carter, a stout rush defense is necessary. The Bulldog defense led the GLIAC in rush defense last year allowing 106.5 yards per game and ranked first in sacks, interceptions and fumble recoveries.
That defense returns All-Americans sophomore defensive end Zach Seiler and corner Tavierre Thomas. The Dawgs will retain their starting defensive line, as well as most of the lines rotation players. However, they will lose two linebackers in Brady Sheldon and Anthony Darkangelo going into 2017. Despite those two, the defensive front-seven will remain intact with most impact players returning.
Young Receivers Need to Step Up
Stand-out receivers Jamel Lockett and Shakur Sanders will be lost to graduation, leaving a lot of big plays to be filled by young receivers. Sophomore Malik Taylor made strides in 2016 catching 47 balls for 1,017 yards and five touchdowns as the Dawgs' leading receiver. Taylor will need to play a bigger role this fall as the potential No. 1 receiver to replace the first-down machine that was Sanders.
Sanders and Lockett combined for 88 catches, 1,235 yards and six touchdowns in 2016. Other players will need to step up to attempt to make up that production. Juniors Marquel Hines and Jujuan Pollock both played in all 15 games and performed well within their slot roles. They could see expanded roles within a young receiving corps.
Jahaan Brown Must Get Loose
Junior running back Jahaan Brown was second behind Bell in rushing with 996 yards and seven touchdowns. When Brown gets going, Ferris is almost unstoppable. Teams key on Bell because they know many of Ferris' play-call sheets read: Reggie right, Reggie left, Reggie middle draw. When Brown goes off for 6.7 yards per carry like he averaged last season, the defense has to play Bell honest on play action and option plays which in turn opens up the whole offense for deep passes or gashing runs.
Brown had his best season last year seeing 60 more carries from 2015 to 2016. The increased volume seemed to have a big effect on his play as Brown had more opportunities to break plays and show teams he is a top back in the GLIAC.
Brown ranked fourth in GLIAC yards per carry with Carter and Wayne State's Romello Brown placing first and second. Brown will help lead the GLIAC's top offense next season in hopes of another playoff run.