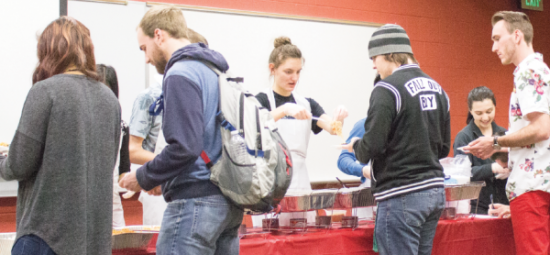 The smell of food filled the air as Ferris students celebrated "A Taste of Thailand" in honor of the 2017 Asian Pacific American Heritage Celebration.
"A Taste of Thailand" took place at the Interdisciplinary Resource Center (IRC) Wednesday, March 29, giving students the opportunity to expand their cultural cuisine with dishes such as the Drunken Noodle, Pad See Yu and Bangkok Tango.
As students laughed with friends and music echoed through the IRC, Ferris pre-medicine junior and president of the Asian Student Organization Cindy Tran's goal was accomplished.
"I just wanted to bring something different to campus," Tran said. "The main purpose of this event is to expose the people of Big Rapids to different kinds of Asian food."
"A Taste of Thailand" was second in a three-part event hosted by the Asian Student Organization.
"I really don't eat many different cultural cuisines," said Ferris graphic design sophomore Morgan Dodson. "I normally stick to what the American stereotypical food is, like fast-food."
Dodson's favorite dish was the Curry Pad Thai, a dish that was also offered at the "A Taste of Asia: Lunar Year Celebration" earlier in the year.
"I would definitely try a bit more cuisines from different countries—see what I like,"Dodson said.
Ferris social work junior Makayla Holloway was another student who was "pleasantly surprised" about Thai food, saying that it wasn't as spicy as originally thought.
"It was really good," Holloway said. "I wish that there was a Thai restaurant here or that they served it at The Quad or something."
By 8 p.m. more than 100 students had gathered in the IRC to try the variety of Thailand cuisines.
"Food is a great way to bring people together," said Ferris biology senior and volunteer Lauren Brown.
This event was co-sponsored by the Diversity and Inclusion Office and the Office of Multicultural Student Services (OMSS).