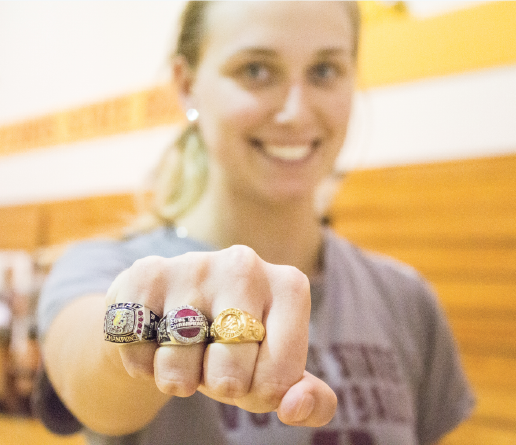 Winning has become the norm for Ferris State volleyball, and on the heels of their third straight Great Lakes Intercollegiate Athletic Conference (GLIAC) championship, preparation has already begun for next season.
Sophomore right-side hitter Hannah Guy redshirted her first year at Ferris, giving her three Bulldog seasons to earn each consecutive Bulldog championship rings. Guy and the team just received their brand-new rings Monday, March 27.
"It's my third one since I have been here. It's always nice having a symbol to reflect on the accomplishments of the past year," Guy said. "It's also always a great way to motivate us for the next season. We want to carry on the legacy of being such a hard-working team."
The Bulldogs have been nothing but dominant over the course of the past three seasons, racking up an impressive 50-3 GLIAC record. Guy put a lot of importance on being a team in 2017 that will keep that legacy rolling.
"You don't want to be the team to drop the ball and be the team who breaks the runs we have had these past few years," Guy said. "It's a reminder of the high standards we have as a team and it drives us to do even bigger and better things this year."
Already working towards another season of supremacy, the Dawgs took on Div. 1 program Central Michigan in an exhibition spring game, where they defeated the Chippewas in a close match.
A big part of the team's success during the 2016 season was freshman outside hitter Allyson Cappel. Cappel dominated the court, leading her team with 520.5 total points in her first year as a collegiate athlete.
"Earning a championship ring this year has been an amazing experience," Cappel said. "We have a lot of good girls coming in next year even though we graduated some amazing volleyball players."
The volleyball program graduated three seniors after the 2016 season in setter/backrow specialist Jenna Way, setter Stephanie Sikorski and libero Kaley Konjarevich.
"I feel that we have the ability to do some great things this upcoming season if we put in the work," Cappel said.
Cappel's high hopes for the upcoming season are bolstered by a strong recruiting class. The Bulldogs are bringing in five new Bulldog recruits to learn what it takes to be a part of such a successful program.
In order to get on the same page, Cappel said that the team reads a new book every year. This year's book focuses on the fact that talent is not enough to be a great player. With teamwork at the forefront for the program, Guy said the team has been putting in extra work as a unit to ensure a successful 2017 season.
"I'm really looking forward to what next year has to offer because we have been working our tails off this spring and it'll be great to see all of our hard work put into play," Guy said.
The Bulldogs' spring exhibition schedule will come to a close when they head to the Dunes in Indiana to take on a number of competitors Saturday, April 8.