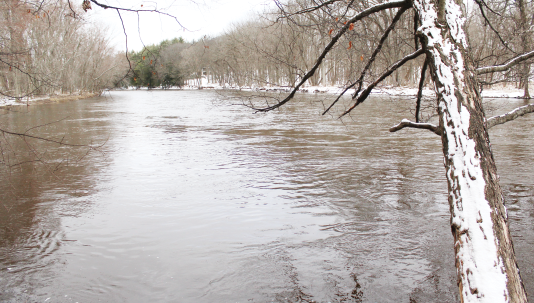 Water is a commodity that is frequently taken for granted. Chances are, you think of water much like most people—it's always there.
We take long showers, drink from plastic bottles, harvest groundwater and water our crops when they become parched. Making sure that water is available to all that need it rests on all of us as we navigate the future.
Without affordable clean water, people are living on borrowed time. Water rights have directed human history as settlements center around areas with water access. Water problems and politics aren't just confined to third world countries. We can see the crucial role water plays right here in Big Rapids.
In May 2016, seven samples taken from across campus indicated elevated lead levels and one result had elevated copper levels. With the water fountains and offending pipes responsible for the metals removed, regular testing of water at multiple sites on campus allow for Ferris to monitor the situation.
The Muskegon River also runs through Big Rapids, and the water should be protected. It gives life to the surrounding environment, and events happening within the area bring the security of our water into question. Nestlé North American's bid for increasing their groundwater extraction 167 percent from a well in Osceola County causes concern because of the lack of third party oversight and the sheer amount of water they want to take.
Residents of Flint have been living without clean water since April 2014.
With the Center of Disease Control and Prevention (CDC) finding the first link from Legionnaire's disease, a severe form of pneumonia, to Flint's water supply in February of this year, we can see the implications of water that isn't taken care of.
In his bestselling novel "The Big Thirst," reporter Charles Fishman discusses how the issue of water will play a larger role in society and examines key factors such as our water use and its economic value that will affect water usage going forward. Water is a topic that will only continue to make headlines as battle lines are drawn between big businesses and environmental advocates within Michigan.
Like the Standing Rock Sioux tribe fighting for the health of their water supply against the Dakota Access Pipeline, we need to be proactive as well.
Asking for new legislation to be passed concerning bottled water will help keep businesses like Nestlé in check. Reforming laws that allow billions of gallons of groundwater to be extracted from Michigan for $200 should be given focus so that water is prioritized and given more value.
It is harder to fix a water issue once it emerges, and taking so much groundwater needs further consideration on behalf of lawmakers and the Department of Environmental Quality (DEQ). After all, bottled water is consumed more than soda, and we have to make sure that what we consume is safe and ethical from the ground up.