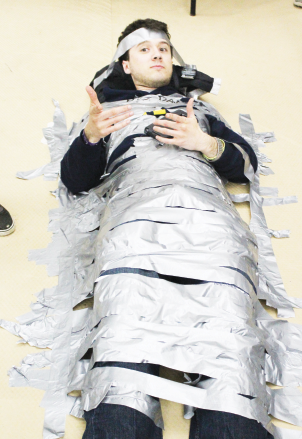 Friday night was alight with hope, empowerment and creativity as Ferris held its annual Relay for Life.
Campus RSOs, Greek Life and Academic Programs put together teams to raise money for the American Cancer Society.
"Our overall fundraising goal is $55,000," said President of Colleges Against Cancer and the event coordinator Catherine LoSchiavo. "We hope to reach this by the end of the night. So far, we've raised over $20,000 and it's still continuing to increase. We also hope to have at least 1,200 participants, so we can't wait to see the turnout."
The theme for this year's Relay was "music bands." Each team added to the lightheartedness by applying a pun related to their program.
"It's a moment where we all can connect and pull through our hardships together," LoSchiavo said. "Cancer affects the lives of everyone, and it's an event where we can all celebrate the loved ones we have, remember those we've lost and fight back against the disease that's affected us all in more ways than one."
The French club had a french kissing booth, Law Enforcement had a pushup competition and Brophy and McNerney Halls had a phone charging station.
"We took the route of Chainsmokers for the band," said Ferris pre-veterinary science senior Tori Burzynski.
Their banner was a hand painted set of lungs by Alyssa Jenkins.
"We [participate] every year, but almost everyone in our club has had someone affected by cancer," Burzynski said. "My aunt passed away the summer before my freshman year. She had skin cancer and was diagnosed November 2012."
Along with the relay, there were mini-events held in the center of the relay every 15 minutes. The first few were personal accounts of the effects of cancer. Some were survivors who shared their story and shared stories of their family members' battle. A common theme from survivors was to "never let cancer define who you are."
Groups such as the Ferris Dance Team, Team Captains, Ferris' a capella group The Vibrato Vibes and many others were told they could have 60 seconds for a talent show and a Q&A portion.
The Relay was held at Wink Arena from 6 p.m. Friday, March 31, to 6 a.m. Saturday, April 1.
Every group was required to have at least one member on the track at all times throughout the 12 hour event.
"I'm not sure. I'm going to feel it out," said Ferris game design freshman Devin Baxter-Hawkins. "I'll stay all night if I have to. My granddad had bladder cancer."
Hawkins was dressed in a koala onesie doing fun tricks for $1 to keep participants laughing.