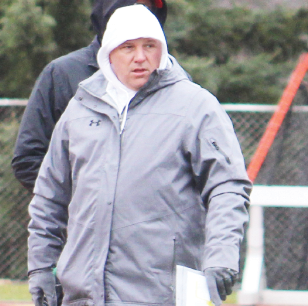 Quarterback coach and co-play caller Dan Rohn received an expanded role as a full-time assistant coach to his 25-year friend head, coach Tony Annese.
Rohn will continue to assist in game planning, calling plays, and will serve as run-game coordinator while developing quarterbacks. Rohn will have more administration responsibility to assist Annese on day-to-day football operations. This will include scheduling and hosting clinics while assisting with the Gridiron Club.
Rohn became a Bulldog last season after a successful stint as a high school head coach when he won four state titles at West Catholic High School in Grand Rapids.
"I was ready to coach at the next level," Rohn said. "I had won four state championships at the high school level and wasn't sure there was much more I wanted to do at that level."
Rohn won nine straight conference titles in his nine-year stint at West Catholic, earning a 49-1 conference record while winning state championships in each of his last three seasons. Tasked with finding a successful program with a good fit, Rohn chose Ferris in part because of his respect for Annese and the program he built.
"I was really selective about where I was going to go and who I was going to work with and Ferris has been a great fit for me," Rohn said. "The staff, the administration and kids have really given me an opportunity to grow as a coach and challenge myself for a new path."
Annese and Rohn met each other as high school coaches 25 years ago and have worked together at football clinics and camps ever since.
Last season, Rohn helped groom junior quarterback Reggie Bell into the pilot of a fast-paced spread offense, despite it being the first year in the program for both men. For years, that position had been manned by two-time Harlon Hill winner Jason Vander Laan. Rohn was able to transition the program from that to Bell and senior quarterback Trevor Birmingham who combined for more than 5,000 yards of total offense and 53 touchdowns in 2016 en route to the winningest season in Ferris history.
Bell suffered a torn labrum in his throwing shoulder this offseason and won't be able to throw for a few months. This leaves a roster full of young quarterbacks with little to no college experience. Redshirt freshman Travis Russell was third on the depth chart last year and saw limited action. If Bell is not completely healthy when the season comes, his name is most likely to be called.
"Travis gets to take a majority of the reps now, who had some game experience last year. It gives him an opportunity to grow and to become more confident in game situations," Rohn said. "Being able to get reps for Travis is extremely important, while at the same time you'd like Reggie to have this spring to grow. But since he's not allowed to participate physically, we need to keep him engaged mentally."
Bell has been calling signals on the sidelines and working hard in the film room this spring and will continue to do so until he is ready for physical participation. Rohn will play a crucial role for the Bulldogs this season by developing Russell and getting Bell back up to speed.