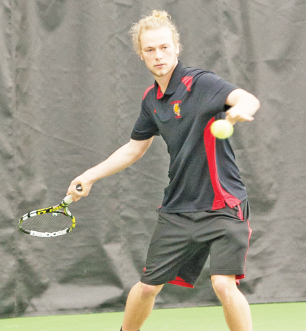 If there's one thing Ferris sophomore Till Von Winning knows, it's, well, winning.
Ferris State hit the road to the Upper Peninsula and swept Lake Superior State and Michigan Tech 9-0 Saturday, April 1, and Sunday, April 2, respectively.
The 6-foot-2 Schopfheim, Germany, native boasted a perfect record in both matches, winning his doubles matchups with fellow sophomore Bulldog Steward Sell and also claiming victory in his singles matches.
The next time the Bulldogs hit the court will be on home turf 2 p.m. Friday, April 7, against Northwood in Big Rapids. Then, Wayne State will come to town to play at Ferris 10 a.m. Sunday, April 9.