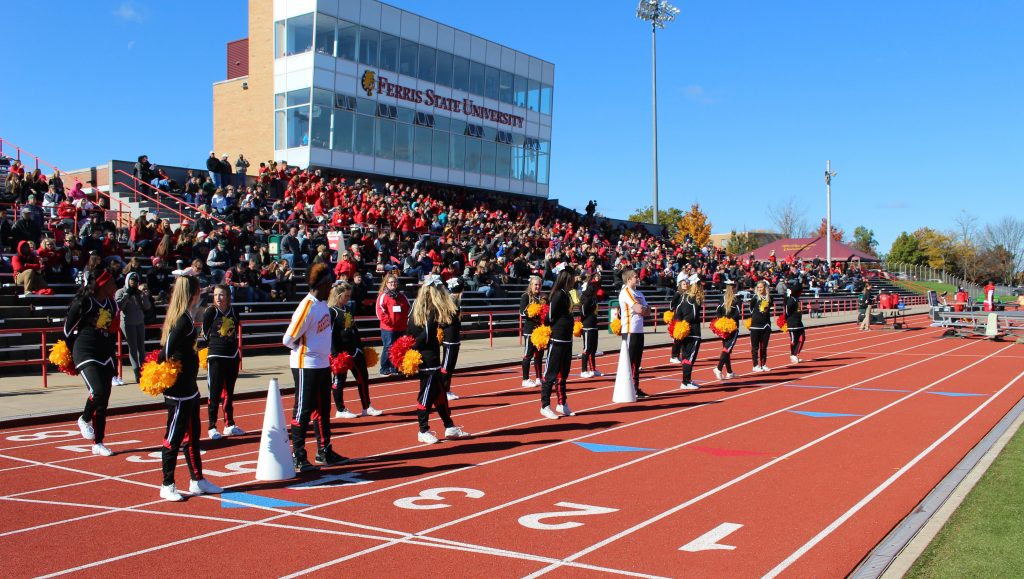 The Ferris cheer team is fresh off their latest round of tryouts and if their roster continues its latest pattern, there will be little to no men on the squad this coming year.
As of now, the team consists of nine women and figures to add more after their April 9 tryout results are in.
To most, the vision of the typical cheerleader is a woman in a skirt doing acrobatics with pompoms in each hand. Cheerleading has been considered a women's sport for years, but squads around the globe are beginning to see advantages in adding men to their teams.
Though there is an advantage to having a man's build in the mix, it's not very common to see one on the team. So why is it so hard to draw in male cheerleaders?
"Male cheerleaders have to deal with a ton of stereotypes," said Ferris cheer head coach Danielle Lee. "When a guy tries out for cheer, people assume they're gay or question why they tried out because there is no reason for them to be a cheerleader."
Stereotypes are a huge problem, so it would make sense that they contribute to the lack of men on Ferris' squad.
The fear of being judged because of fabricated stereotypes is often attributed to the reason that men don't join cheer teams. However, this is just one of the possible challenges that men face when trying out for a cheer team.
In the state of Michigan, men are not yet allowed to compete as part of a high school cheer team, making it tough for them to meet the physical demands of a college squad.
"College cheer is a lot more elite than most high schools," said Lee. "We push our members of our squad to their body's limit after every practice. Even after practice, they are expected to keep up a certain level of tumbling and other skills."
While the list of requirements for men to try out for the Ferris cheer team is short, their inability to perfect their skills at the high school level could discourage them from trying out at the next level.
Whether it be emotional or physical, there are factors at play keeping men from participating in the cheer program at Ferris.