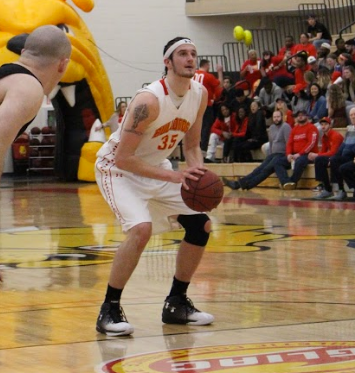 By: Zack Hankins | Guest Writer
If it were easy, anyone could do it. This has been my stance on life since I came to Ferris three years ago to play basketball and heard it during one of my first conditioning sessions. Once I made it through that session, I knew that the next five years would be some of the hardest and most rewarding years of my life.
Just before my senior year of high school, I had broken my foot and was only able to play the last two games of the season. Luckily, Coach Andy Bronkema of Ferris State had taken a chance on me, a tall kid from a small northern Michigan town, and offered a small scholarship to play for his program.
Three thousand dollars wasn't much but for me, it was everything. It was the opportunity to continue to play the game I loved at a higher level, even though I had an injury my entire senior year. Going in, there wasn't much expected of me, but I was determined to be the best.
Since then, my life has consisted of hours and hours of training, lifting, shooting and playing basketball. This of course is always mixed in with the long class days and finishing homework when I can.
In an average day, I will spend between three and four hours of my day on bettering myself for the game. Pre-season workouts generally consist of lifts and conditioning, with open gym afterwards so we continually use our skills on the court. Post-season has skill work, lifting and open gym as well. During the season, every day after class I make my way to the film room in order to scout our next opponent.
We then head to practice, which consists of personal drills that develop the skills of each position individually, along with team drills, where we practice plays and play against one another.
After the first few weeks of working out and playing with the team during my freshman year, I was informed that I would be taking a redshirt year to develop my athleticism and skills further. This meant that after our full practices and workouts, I would continue to run drills and hone my skills with a coach for another hour alongside my other redshirt teammates.
Every day, I had to make a decision to not fall into a lull and allow myself to slack off. There were other people out there working harder than me and I had to keep up. The team won the GLIAC tournament championship that year, but I was looking forward to the next year where I could play and earn my ring.
One year later, I now had the chance to play on the court in games, but without the pressure of winning on my shoulders. The seniors would be the ones who needed to make plays, and I was just a boost of energy off the bench. I could focus on the further development of my game without having stress cloud my goals.
We ended up winning the GLIAC championship that year as we had the last, but I was still looking forward to the next year. This time, I would have to step up.
Going into the 2016-17 season, expectations were scattered. We had lost four seniors who had all been starters and major contributors, and our young group was not filled with much playing experience. My personal goal for the year was to average a double-double. Our team's goal was to go for a three-peat in the GLIAC tournament, win regionals and make it to the Elite Eight in the nation.
In some ways we exceeded our goals, having one of the most successful seasons in this program's history, winning the regular season championship along with the GLIAC tournament championship and breaking the record for most wins in a season. However, the regional title still evaded us.
Personally, I exceeded my own beliefs of what the season would hold. I became the first Ferris State basketball player to win the title of GLIAC Player of the Year as a sophomore, and further to win the Regional Player of the Year and become an All-American.
I take confidence and pride in my work ethic, going as hard as I can during workouts and practice. But the rewards of my work took me by surprise. They reflect my work, but they also reflect on my teammates. In my mind, any personal awards are team awards, and I have been very blessed by the people who surround me in this program.
It would be easy for me and the other members of my team to look back at this year and feel satisfied, assuming that next year will take care of itself. To believe that we are just that good, and to forget all of the work and determination it took every day to win each game, one at a time. But championships don't come easy and we know that.
Championships come when you lift for an hour, run sprints for conditioning, and still push yourself to get in the gym and shoot afterwards.