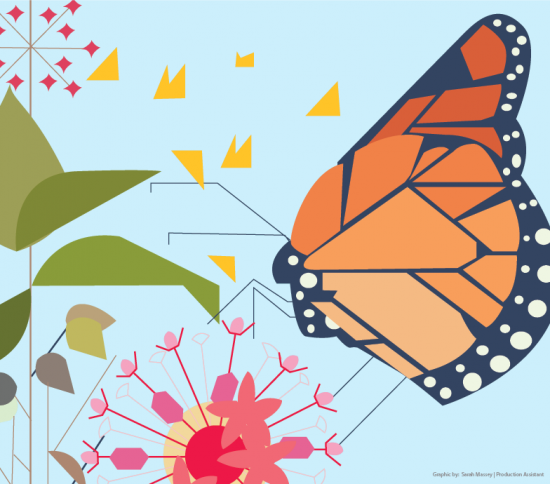 Changes to the Bulldog Sustainability Alliance (BSA) registered student organization (RSO) has seen positive results according to Ferris math senior and BSA vice president Kyle Denney.
"Now, it seems like on campus, people have a happier connotation towards the events rather than mild confusion," Denney said.
The BSA is focused on promoting sustainability on campus and in the community.
The organization has been working with the city of Big Rapids to plant more milkweed, which helps monarch butterfly conservation efforts.
According to BSA President and Ferris environmental biology senior Symon Cronk, these efforts have given Big Rapids the nickname "Monarch Mayor." The Card Wildlife Center will be hosting an event called Butterfly Flyaway, related to these conservation efforts.
"[My favorite part has been] seeing the work of the year come together," Cronk said. "This year has been trialled with some challenges and obstacles. But to see it come together like this and put together what looks to be a great Earth Week, I'm thrilled to see it. It's a very satisfying and busy time."
"Our goals and values are something we think about and work with all year," said Ferris psychology junior and BSA secretary Laura Markham. "It's really nice during Earth Week to see how prevalent they are across campus."
During Earth Week, the BSA will be hosting multiple philanthropic fundraisers.
"We're going to be doing Honey Buns for Honey Bees," Cronk said. "We run all week long and sell locally made honey buns for one dollar, and proceeds will go to the Pollinator Partnership. Our organization also made seed bombs with native wildflower mixes for one dollar."
The honey buns will be sold from 10 a.m. to 4 p.m. until Friday, April 21, in the North Quad and University Center (UC).
According to Cronk, this will be the third year BSA has been involved with Ferris' Earth Week celebrations.
This year, BSA will be bringing in Chris Mensing, a fish and wildlife biologist with the U.S. Fish and Wildlife Service, to discuss the Kirtland's Warbler, one of North America's rarest songbirds, and their native habitat, Michigan jack pine forests. The event will be 6:30 p.m. Wednesday, April 19 in UC ballroom 202A.
"This has been a time for us to rally all year and put on a great event, to bring something here to the campus and give back to the students," Cronk said.
Students interested in getting involved with BSA can follow them on Facebook, Twitter, OrgSync and Snapchat, where they will be sharing stories throughout Earth Week. Meetings are 11 a.m. every Tuesdays.