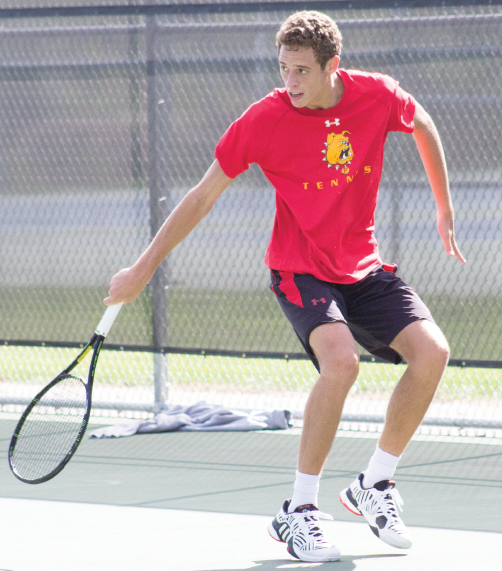 Hunt has a 'simple' motto when it comes to tennis. "Simple is powerful." He emphasizes fundamentals of tennis, execution and positioning to his players, which is evident in their performance.
Ferris men's tennis clinched their third straight GLIAC Championship with an undefeated weekend on the road at Walsh and Tiffin.
The Bulldogs swept Walsh 9-0 on Friday, April 14, and defeated Tiffin 7-2 on Saturday, April 15, to remain undefeated in conference and claim the regular season championship.
These victories improved Ferris's record to 16-2 overall and a flawless 10-0 conference record, which lands the Dawgs at No. 15 in the nation.
The Bulldogs doubles pairings were perfect on the weekend, winning every match against both the Cavaliers and the Dragons. Ferris' Till Von Winning, Vasil Surduk, Nur Adim Iswan and Pablo Munoz Baroja were also undefeated in both matches in singles flights.
Dominance has been a theme for the Bulldogs all season as they have seven sweeps on the year. Ten of their 16 wins have been by a score of 8-1 or better.
"We have a lot of talented players," head coach Danny Hunt said. "Our three through six, essentially we could take them out and insert a new two or three people in there and get similar results."
The undefeated conference stretch saw the Bulldogs battle past perennial powerhouses like Northwood, who won 20 consecutive conference championships from 1995 to 2014, and Grand Valley State, who finished No. 2 in the GLIAC standings.
"We tried to stay simple; played the percentages, looked for their weaknesses, utilized our strengths," Ferris senior Raleigh Grossbaum said.
Even at this point in the season Hunt and the rest of the Bulldogs are still focusing on fine tuning their fundamentals, though it's tough to argue against that strategy with the results shown on the court.
"We're focusing on execution, setting ourselves up and getting in the right positions. We can't execute if we're not in the right positions," Hunt said.
With the regular season in the books, the GLIAC Tournament will kick off Friday, April 21, in Midland, Michigan. Being the No. 1 seed, Ferris will receive a first round bye before taking on the winner of the No. 4 and No. 5 seed matchup on Saturday, April 22.