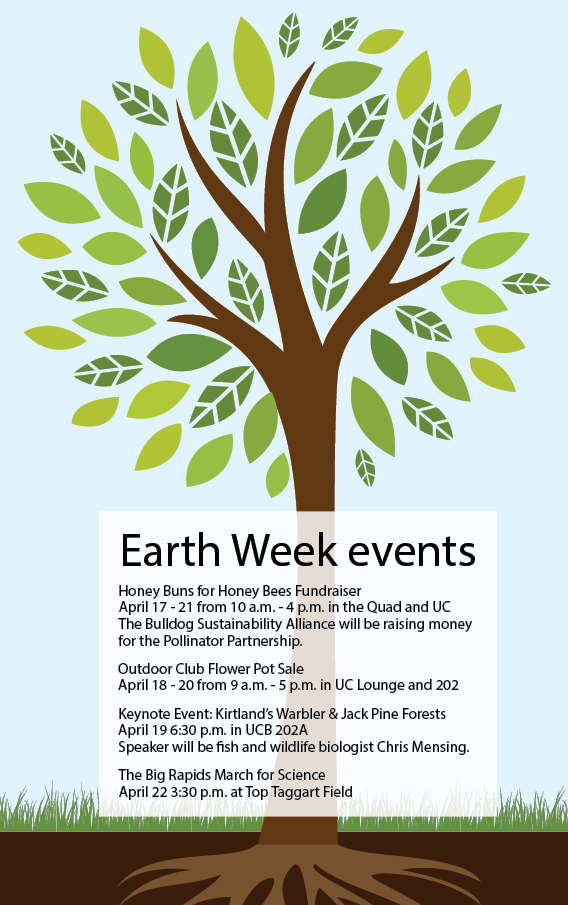 Marching has been the latest trend of 2017 and as Earth Day approaches, scientists are gearing up to take their stance to the streets.
While the official March for Science takes place at the National Mall in Washington D.C., there are currently 514 satellite marches registered in approximately 37 different countries, according to marchforscience.com, the official march registration website.
In Michigan alone, there are 14 satellite marches planned for Saturday, April 22, taking place in Alpena, Ann Arbor, Cheboygan, Detroit, Grand Rapids, Houghton, Kalamazoo, Lansing, Marquette, Midland, Petoskey, Sault Ste. Marie, Ypsilanti and Big Rapids.
"Participants will gather at Top Taggart Field between 3 and 3:30 p.m., and begin marching at 3:30," said coordinator and Ferris mathematics professor Victor Piercey in a press release.
There are a number of reasons science–lovers will be marching, including President Trump's tweets, which have raised concerns within the science community and have influenced people to march.
"It's really cold outside, they are calling it a major freeze, weeks ahead of normal," President Trump stated in a 2015 tweet. "Man, we could use a big fat dose of global warming!"
In another tweet from 2014, Trump stated, "This is very expensive GLOBAL WARMING bullshit has got to stop. Our planet is freezing, record low temps and our GW scientists are stuck on ice."
But the climate debate goes beyond the virtual world of Twitter. According to various news reports, science enthusiasts are also upset over Trump's executive order that was signed on Tuesday, March 28.
"With today's executive action, I am taking historic steps to lift the restrictions on American energy, to reverse government intrusion, and to cancel job-killing regulations," said President Trump in a press conference with the Environmental Protection Agency (EPA).
Despite the political controversy, the March for Science website claims to be nonpartisan.
"The March for Science is the first step of a global movement to defend the vital role science plays in our health, safety, economies and governments," the website states. "Science, scientists and evidence-based policymaking are under attack. Budget cuts, censorship of researchers, disappearing datasets and threats to dismantle government agencies harm us all, putting our health, food, air, water, climate and jobs at risk. It is time for people who support science to take a public stand and be counted."
For anyone seeking more information about the March for Science, they can visit marchforscience.com.