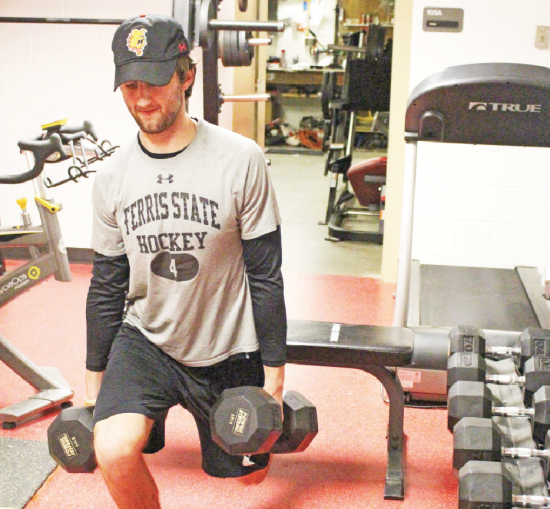 The journey to become a Ferris State hockey player has included a few unexpected twists and turns for one of its newest members.
Growing up in Georgia, Ferris State transfer defenseman Zach Yoder was introduced to the sport at the age of five by his neighbors in the form of roller hockey. Yoder eventually traded the wheels for skates and started down a path that would lead him to many places.
Yoder, who is now majoring in finance and accounting, is hard at work preparing for his first season on the blueline with the Bulldogs. The 6-foot-5, 184-pound defenseman made a lot of stops before ultimately deciding to join the Bulldogs. This was a decision that certainly made Ferris State Head Coach Bob Daniels happy.
"We're going to have a defenseman that is really seasoned," Daniels said. "He is going to understand our systems completely, he's played college hockey. It's really going to be like rolling out a junior defenseman and the upside is we have him for three more years."
Yoder found his way into Michigan when he began playing for the Muskegon Lumberjacks of the United States Hockey League (USHL) in 2012. He spent parts of two seasons there where he tallied one goal, seven assists and 14 penalty minutes in 41 games. As his time in Muskegon carried on, the franchise went through ownership changes that saw a new coaching staff take charge. It wasn't long before Yoder received a call in the middle of class at Mona Shores High School letting him know that he had been dropped from the roster.
"To be honest I was kind of expecting it. But at the same time, it was not a good feeling because I didn't know where I was going to go," Yoder said.
After some talk with coaches, Yoder was able to secure a tryout for another USHL team. There he was met by a scout for the Janesville Jets of the North American Hockey League (NAHL) who had interest in signing him. After being cut from his USHL tryout, Yoder decided to pack his bags and head to Wisconsin to try and reestablish himself with a new team in a new league.
Yoder spent two years in the NAHL with Janesville where he enjoyed a breakout year in the 2014-15 season that saw him tally four goals, 20 assists, 58 penalty minutes, and a plus 44 rating in 58 games. His success didn't go unnoticed as he was recognized as the 2014-15 NAHL's North Division defenseman of the year.
"It was a good feeling obviously. I wanted to be one of the top guys in the division and I knew if I wanted to move on I had to be," Yoder said.
After a strong final season of junior hockey, Yoder received a Division 1 offer to play for the Air Force Academy. After visiting the campus located just north of Colorado Springs, with the help of his family, Yoder decided that he was going to sign with the Falcons and see how the military route played out for him.
Yoder registered one goal and eight assists in 29 games for the Air Force during his freshman campaign in the 2015-16 season. His time on the ice was better than his time off. For Yoder, halfway through the season it became apparent that the Air Force wasn't for him. Met with the reality that he would be leaving, Yoder focused on improving his game in hopes of spiking interest from another Division 1 school.
After Yoder was released by the Air Force, he sent out a few emails and eventually came in contact with Ferris State. A visit with the coaching staff was all it took for Yoder to decide on transferring to Ferris. Yoder sat out the 2016-17 season due to NCAA requirements regarding transferred players but used the time to adjust to his new team. Hours and hours on the ice, in the video room, and in the weight room have helped prepare Yoder for his first year with the Bulldogs.
"I'm working out and trying to get stronger," Yoder said. "My goal this summer is to just get stronger and be ready physically."
Yoder looks to work his way into the lineup next year as the Bulldogs aim to rebound from a season that saw them go 13-19-5.
The Dawgs will be returning without five seniors from this year's team including standout forward Gerald Mayhew who led the team in scoring the past three seasons.