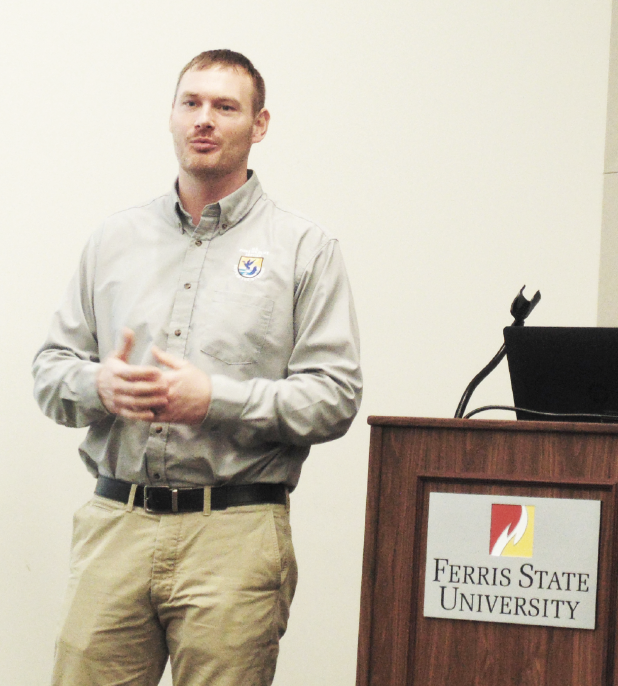 Part of saving a species on the endangered list is taking time to educate people on what they can do to help preserve the habitat and the species itself.
Wednesday, April 19, U.S. Fish and Wildlife Service biologist Christopher Mensing spoke at Ferris about the Kirtland's warbler.
The Kirtland's warbler is a ground-nesting bird unique to Michigan and parts of the Midwest. However, the species has spent time on the endangered species list.
"Part of my job is to do outreach," Mensing said. "It's always good when you can speak to a different group, not only explain about the Kirtland's warbler, but what we do as an agency and the importance of nature and species, what role these endangered species have to us. There's a lot of value of those species to people."
The event was hosted by the Bulldog Sustainability Alliance (BSA) RSO.
"In our group, there's a big passion for biology and the ecosystem and environment," said BSA President and Ferris environmental biology senior Symon Cronk. "Many students in our group have taken our ornithology class here and have gained a huge passion for it. So, that's exciting, the ability to have someone share what conservation efforts are being done in Michigan and helping preserve the Great Lakes ecosystem as a whole."
Ferris industrial chemistry senior and current BSA community service chair Adam Jandura, who will be next year's BSA President, reached out to Mensing asking him to speak at Ferris.
"I took ornithology last semester and one of our assignments was reading a book on the Kirtland's warbler," Jandura said. "Just learning more about that species in particular and learning the impact it has on the forests of Northern Michigan, it made me want to reach out to other people who could give more information and who could share such a local issue with our school."
Kirtland's warbler is also referred to as the bird of fire or the jack pine warbler. The species nests under young jack pine trees with branches low to the ground, and is dependent on natural wildfires to kill older, taller trees to allow new ones to grow.
When Smokey Bear became popular in the 1950s, human wildfire prevention measures resulted in a diminished species population, hitting a low of 201 singing males worldwide in 1971 before the U.S. Forest Service and the DNR began conservation efforts.
In 1980, a large wildfire in Michigan consumed 25,000 acres of forest. This, in combination with conservation efforts, allowed the Kirtland's warbler population to explode, breaching 1,000 by 2001 and now more than 2,000. Now, approximately 95 percent of the population nests in the northern part of Michigan's lower peninsula.
"I think it's really cool for kids that get into birding when they're younger to be able to say this is a Kirtland's warbler," said Ferris biology and pre-veterinary science senior Joseph Scott. "This is a bird that's only in Michigan. Nowhere else in the world will you find this bird."
Mensing encouraged students to get engaged in local conservation efforts.
"Be engaged with your local community, be engaged with your conservation organizations, be engaged with public agencies," Mensing said. "Just help them understand the importance these things have to the community and to the people. Get engaged early on with some ideas of what they can do to have more conservation or restoration value to some of these species that need it."
"I'm going to be a veterinarian," Scott said. "So hopefully in the future, I can help with some kind of wildlife. Maybe help with the Kirtland's warbler or other birds."