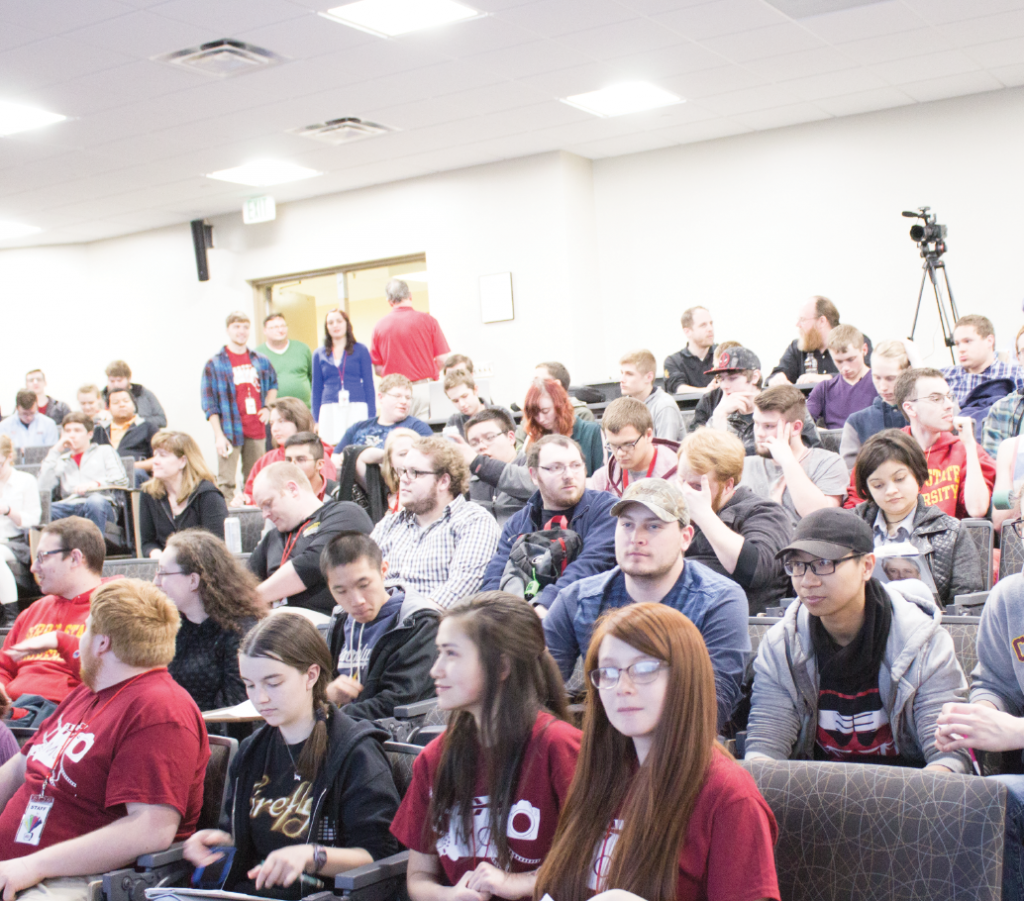 Speakers from the digital media industry presented at the 17th annual Ferris Media Festival, hosted by the Media Communications Association (MCA) registered student organization (RSO).
The festival included six speakers and featured a lunch break at noon for guests, students and speakers to network.
Her second year planning the event as president of MCA, Ferris television digital media production junior Megan Soller said being able to meet new people is one of her favorite parts of the event.
"As president, and as part of planning this event, you get to reach out to these people who are professionals in their industry and then once they get here and they speak, you can go up to them and say, 'Hey that was a great speech. I liked how you talked about this, this and this,'" Soller said. "That creates a networking opportunity for you in the future. And they give you their business cards and they say, 'Hey reach out to me when you get to that point where you're almost done with school and you need those connections.' I just think it's a really good event to pull people together who are successful and are where we are as students, trying to be successful."
Ferris State alumnus Tony Trudeau took to the stage to discuss his work in the gaming industry for projects such as Farmville and Mafia Wars, where he went from being a 3-D and 2-D artist to being involved with production. He currently works as the senior art coordinator of Pocket Gems.
Trudeau discussed how he started in the industry and what it took in order to get him there. Showing off some of his first creations with Farmville, Trudeau later talked about the importance of having a great portfolio, being able to work in a team setting, and realizing which goals can be met.
"I've actually heard about the games that he's worked on. I haven't heard about the games in a positive light, I've always heard of them as like cheap Facebook games, but I thought it would be interesting to hear his perspective on it," said television digital media production freshman Sid Sabo. "I've never played the games before, but I think it was really interesting hearing his perspective on it. I think he made some really great art and him working on a team, and under conditions you weren't specifically trained for. It was really interesting."
The event also featured Yeti/CGI game artist Josh Freeney, television director Alex Kimbrough, Aaron Peterson of Michigan Ice Film, Google VR/programmer Will Bonner and game sound designer Jerry Berlongieri.
"I love this event. It opens up people's horizons. It gets a lot of college students excited for their career. And we have a lot of high school students come and it gets them excited and it makes the high school students want to come into our field because a lot of people aren't coming into it anymore," said television digital media production junior, Krynn Porter. "It gets them pumped, asking so many questions and they're just like 'I wanna do this. And how do I do this?'."
A previous attendant of the Ferris Media Festival, Ferris television and digital media production senior Thomas Dittman discussed how he had changed majors to something he enjoyed.
"The festival is like the years before. It's interesting. I'm hearing different things," Dittman said. "Y'know, I'm learning stuff and hearing stuff I already know, too."