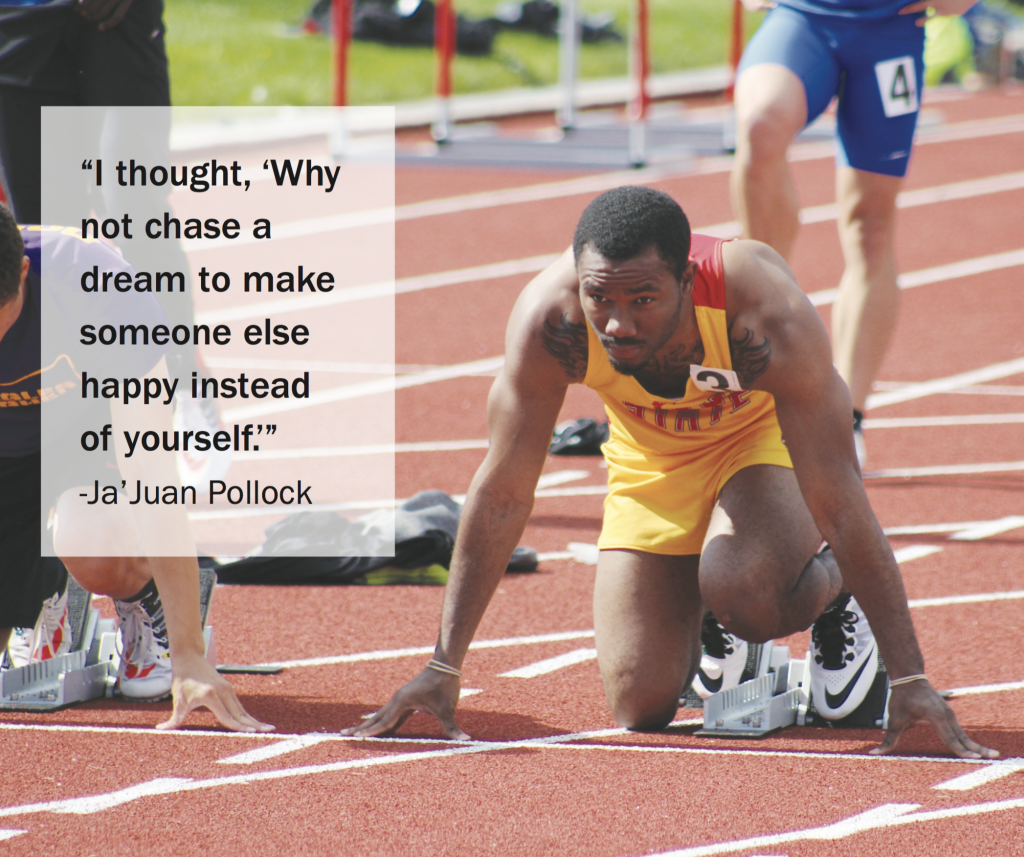 Two-way athlete Ja'Juan Pollock has enjoyed an illustrious career as a Bulldog to this point, but not many know how he came from humble beginnings to a future star.
A track and football star, Pollock was given two options by his family–go to college or go into the military. With influence from his cousins and people stuck in the streets, this four-year starter chose the former.
"Football is another option to succeed in life," Pollock said.
Where Pollock hails from, many people struggle to fulfill their potential and end up being sucked into the streets. Luckily for Pollock, a strong family structure growing up was enough to motivate him, with both parents instilling in him "a knowledge of right and wrong."
Despite many people in his community being involved in the street life, those same people sought to teach the youth against living their lifestyle.
Pollock recalled being approached by a local drug addict who said, "You don't want to get caught up in these streets, young blood."
Pollock initially laughed at the addict's remarks but realized he was serious.
"I heard that from so many people," Pollock said.
Those people in the community wanted to see the 'young blood' make something of themselves, rather than be another guy from the block. Pollock, along with his senior teammates receiver Marquel Hines, defensive end Marquis Dawsey and defensive back Willie Smith followed the advice and made it from Bradenton, Florida to Big Rapids, having prominent impacts on Ferris football.
Pollock has played football since he was four. He played through middle school and high school with Hines, Dawsey and Smith and almost quit after his grandfather passed away.
"I thought I wanted to be done," Pollock said. "Just graduate high school, go to college and get my degree."
Pollock regained the spark to play after his cousin suffered a fractured femur that ended his career in a 2013 bowl game playing for Southern Methodist University.
"My family told me, 'We thought he was going to be the first to do it. We supported him. Now it's your turn,'" Pollock said. "I thought, 'Why not chase a dream to make someone else happy instead of yourself.'"
His decision proved to be fruitful as he helped Ferris to a 25-game regular season winning streak from 2014-15 and a national semifinal appearance in 2016. He has gained 801 yards and six touchdowns receiving and averaged over six yards per carry on the ground over his first three years.
"He brings a lot–elusiveness, speed, experience," said Ferris senior quarterback Reggie Bell. "He's a focal point on the offense. Someone you have to watch out for on the field."
In addition to being a star football player in high school and college, Pollock also competes in track, which he believes is harder than football.
"Football is about 80 percent mental, studying film and learning plays," Pollock said. "The other 20 percent is natural instinct and ability. With track, it's all physical preparation. It's exhausting."
Pollock currently has a personal best of 11 seconds flat in the 100 meters, and that speed is evident on the football field. The explosion and form he learned from chasing his own times has improved his burst off the line and foot speed in between cuts as he pulls away from defenders.
But Pollock is looking beyond his athletic career, chasing a pre-physical therapy major with an ultimate goal of owning a private practice.
After college, he plans to get into a post-graduate physical therapy program to complete his ascension from troubling surroundings to the unlimited possibilities of self-employment. Before that happens, he has unfinished business on the football field, as the Bulldogs look for another undefeated season and ultimately a national championship in 2017.