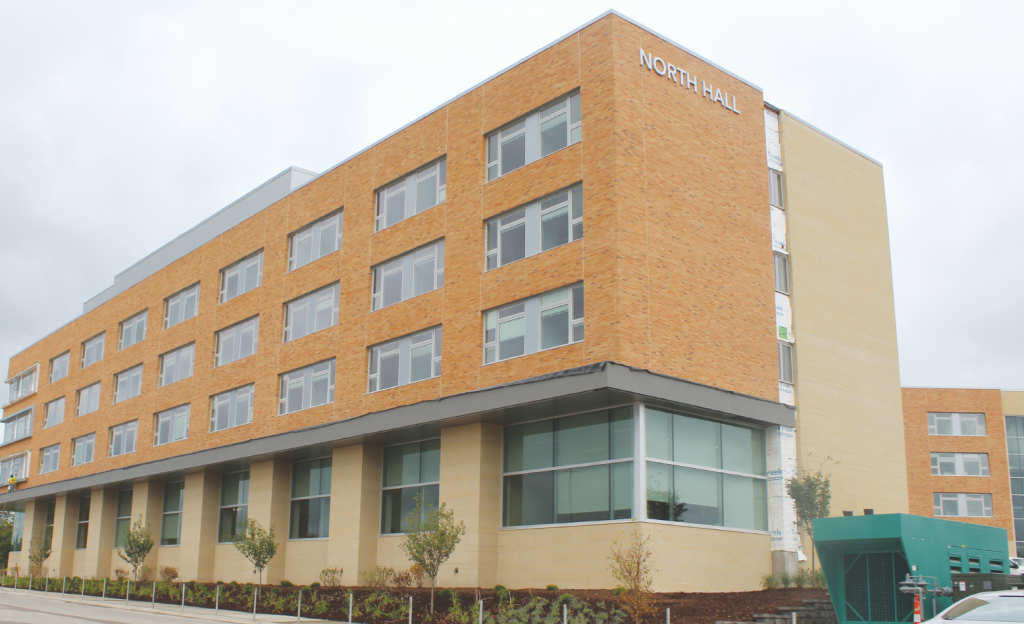 Building projects continue to shake up Ferris as the new North Hall is completed for freshmen moving in this fall semester.
Construction of the newly built 125,000 square foot residence hall began in summer 2016 with Granger Construction picking up the project to provide more modern housing options for freshmen on campus.
Ferris Vice President of Administration and Finance Jerry Scoby is proud of the student involvement present throughout this process.
"When we were working with the architects on the interior designs, we asked for multiple sets of color and texture combinations, and then asked some of the students who were on campus at that time to join our university planning team for a conversation with the architects," Scoby said. "This student input was instrumental in the decision making process."
The cost of the new residence hall is budgeted at no more than $28.15 million. This price reflects innovative updates, with North Hall boasting a fitness room, five lounges and was built with a "living learning component" in mind. Unlike traditional residence hall designs, students can have some of their classes in the hall they are living in. Enrollment in these courses will not be limited to North Hall residents.
"We're really excited to [see] what the new hall does to traffic. The University Center is already really active all the time, but we feel like it will only continue to drive people to what is going on [on] campus and get them connected to the institution and to each other early on," Dean of Student Life Joy Pufhal said. "It's new and beautiful. It is really what students are looking for. The opening of this building is just another great start to a new year."
The North Residence Hall is located near student support services such as the FLITE Library, University Center and the Quad Café. These spaces are central hangouts for students, and encourage them to interact with the benefits made available to them on campus.
For photos from a tour through North Hall, click here.