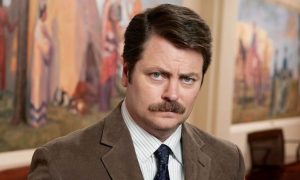 This year's Homecoming comedian was just announced, and it's a doozy. Actor, musician, writer, comedian and woodworker Nick Offerman will be making an appearance during Ferris' 2017 homecoming week.
The actor is most well-known for his portrayal of the iconic Ron Swanson on the popular NBC sitcom, Parks and Recreation, but his resume is a mile long with guest spots on shows including "Fargo," "The Simpsons," "Gravity Falls," "Bob's Burgers," "Gilmore Girls," "Monk" and many more.
He was also the executive producer of his stand-up comedy film, "Nick Offerman: American Ham," which can be streamed on Netflix.
Offerman's show will take place at 8 p.m. on Sept. 28 as part of Ferris' Homecoming week.
The following information regarding tickets for the event was provided by Ferris' Comedian Coordinator for Homecoming, Lacie Tryan.
Tickets will be available Sept. 5 at 11 a.m. to students for ten dollars per ticket. They will then be open to the public for 20 dollars apiece on Sept. 19 at 11 a.m.
Tickets can be purchased at the CLACs office in University Center room 121 weekdays 11 a.m. to 4 p.m. with a student ID.
Click below to see clips of Offerman as Ron Swanson.