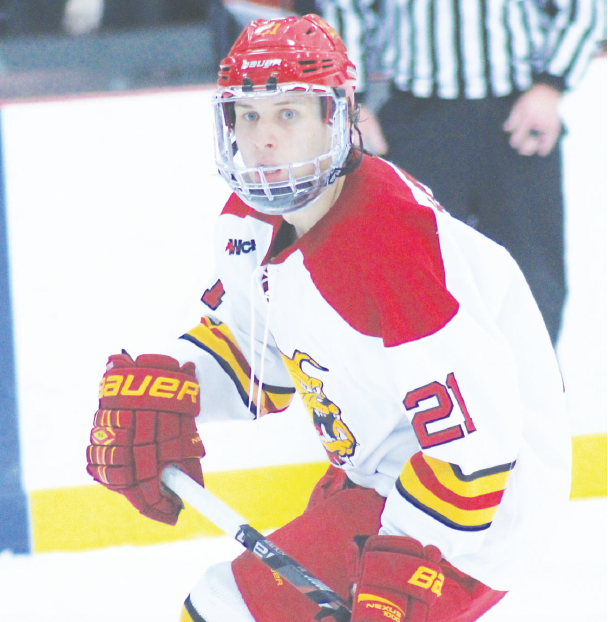 Junior forward Corey Mackin will help lead the charge for the Ferris State hockey team as they aim to bounce back from a down season.
Mackin, a former Western Collegiate Hockey Association (WCHA) Rookie of the Year is coming off a 13-goal, 26-point sophomore campaign with the Bulldogs last year that was good for second in team scoring behind former Bulldog Gerald Mayhew. The 5-foot-8, 167-pound forward is the top returning scorer on the team.
"I'm trying to stay consistent. I want to progress more this year, I want to grow more, get stronger and be a bit harder on the puck," Mackin said.
Mackin will try to help solve the team's biggest challenge in replacing the scoring power and leadership that has moved on from the lineup as forwards Gerald Mayhew, Jared VanWormer and Chad McDonald have graduated. Those three players combined scored 40 percent of the team's goals last season.
"I'm just trying to bring leadership when I can, and on the ice, I'm just trying to do what I need to do to help the team succeed," Mackin said.
The Philadelphia native has played in 77 games for the Bulldogs during his first two seasons, tallying 23 goals and 51 points. Before joining Ferris, Mackin starred with the Coquitlam Express of the British Columbia Hockey League (BCHL) where he played in 115 games, totaling 74 goals and 154 points.
The Bulldogs will look to bounce back from a mediocre 13-19-5 record from last year. They will open their season on the road Friday, Oct. 6, at Western Michigan before returning home to host the Broncos Saturday, Oct. 7, at Ewigleben Ice Arena.