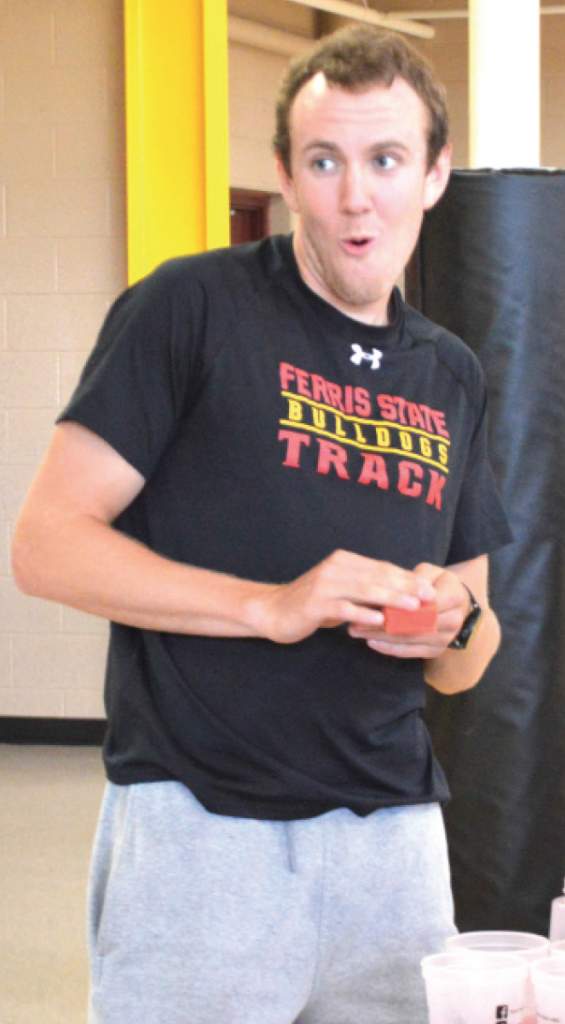 From fishing to basketball and disc golf, Ferris' recreational sports teams aim to hit the ground running this semester at Rec Fest.
Rec Fest was held Monday, Aug. 28, as part of Ferris' annual Bulldog Beginnings initiative. The event was held in the University Recreation Center (UREC) main basketball courts. The goal of the event was for students to learn about fitness, recreational activities and resources available around campus. Intramural and recreational sports teams hosted information tables and activities to engage people with physical activity.
"Overall, our goal is to have fun and get people involved in lacrosse," said Ferris manufacturing engineering senior and women's lacrosse club team member Karley Engelsman. "Right now we're getting a lot of people interested at Rec Fest, so hopefully we'll get a good turn out during the new season. My favorite thing about being on the team is the wonderful people and fun atmosphere."
Besides intercollegiate athletics, Ferris State offers more than 20 club-level sports. With participation open to students, faculty and staff, Ferris' intramural teams compete against each other and club teams compete against other universities. From sports like softball and table tennis to choose from, there is something for anyone who would like to join.
"Rec Fest is our biggest recruiting opportunity on campus. We travel to about six tournaments a year," said Ferris biology senior and Ultimate Frisbee team captain Aaron Weaver. "Our club team has been around Ferris since the 1970s, and we've seen a growth in interest. It's amazing how unique and engaging our sport is and you don't have to have any experience to join."
Photo booths, cornhole tournaments, push-up contests and giveaways enticed students to get involved at the UREC. Free pizza and ice cream were also offered to visitors celebrating Bulldog Beginnings.
"I came to check out the event after hearing about it from my dorm in Clark Hall," said Ferris plastics engineering freshman Alex Hankerd. "I've had a lot of fun playing the games set out and I'd definitely come back and check everything out again next year."
To learn more about the student intramural and club sports teams housed at Ferris, visit the Ferris Orgsync page and Recreation Center webpage for more information. If you have questions about intramural sports teams at Ferris, you can also email recsports@nullferris.edu.
To see more photos from Rec Fest 2017, click here.