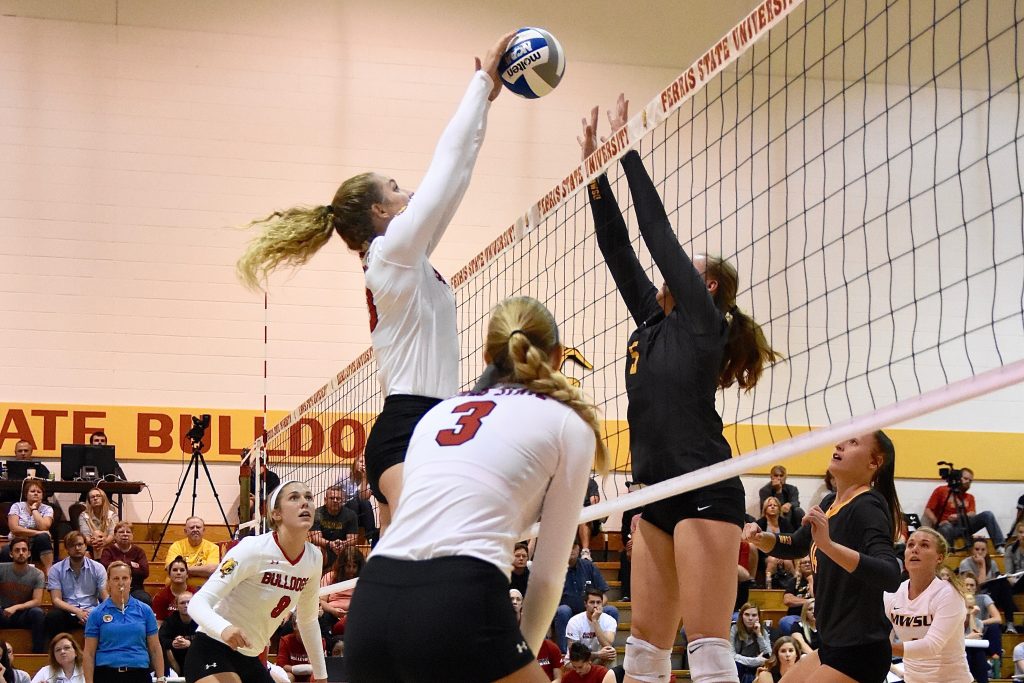 The Ferris women's volleyball team is back with a vengeance for the 2017 season after already knocking off two Division I programs.
The Bulldogs defeated both Western Michigan University and Central Michigan University in exhibition action on Aug. 18 and 19. The Dawgs beat WMU 3-2 and CMU 3-1.
The 2016 GLIAC Champion Bulldogs are off to a hot start and hoping to turn three straight years of GLIAC supremacy into four. Senior libero Lauren Reminga reflected on those two big victories and said that the wins gave the team a lot of confidence heading into the new year.
"Kicking off the season with two wins against two great teams was definitely awesome," Reminga said. "It mostly showed us where we are as a team kicking off the season, and definitely showed us what we can accomplish this year if we keep working hard every day."
Reminga led her team in digs in both of those big victories with 21 against Western Michigan and 17 against Central Michigan. Reminga said that the team has placed an emphasis on chemistry for a long time, both on and off the court, giving them the connection needed to succeed.
"Our seniors worked very hard and made it a goal ever since we were freshman to make the team comfortable and empower the younger players who are new, treating them as we would an upperclassman," Reminga said.
One of those young players is sophomore outside hitter Allyson Cappel, a powerhouse for the Dawgs during her freshman season. Cappel said that her goal this season is to go all out with no regrets, something that people have come to expect out of the sophomore after leading her team in kills, totaling 434 last season.
"Last year was fun because of my team," Cappel said. "Everybody on the team this year is a great person and they have made it so much fun."
The Dawgs opened their regular season play in the Ferris State Invitational on Sept. 1 with a couple 3-0 sweeps over Missouri Western State and Cedarville to advance to the second day of the tourney.
Ferris State's momentum rolled into the next day of the Invite, gaining two more victories over Northwest Missouri State and Quincy to remain undefeated and win the
Ferris State Invitational.
Ferris will have to wait until Sept. 16 before they're able to see any league competition, taking on new arrival in the division, Davenport University, who enters their first season as a member of the GLIAC in 2017.
Sophomore setter Maeve Grimes is confident that the Dawgs will be able to mirror last year's success in the league if they work hard and keep the chemistry flowing.
"Stephanie Sikorski helped me a lot in growing as a volleyball player and being able to get into the groove of being a college athlete," Grimes said. "She not only helped me with my volleyball skill but also made sure I knew the rights and wrongs of college."
Grimes said that she took those things taught to her as a freshman and utilized them in the big victories over the Division I programs and it showed, leading her team in assists during both victories.
Whether they're freshmen, sophomores, juniors or seniors, the women of Ferris State volleyball are all equal as Bulldogs and according to Reminga, that's what has contributed to their continued success.
The Dawgs are back in action on Friday, Sept. 8 at the Colorado Premier Tourney where they look to keep their undefeated streak alive against the University of Tampa.