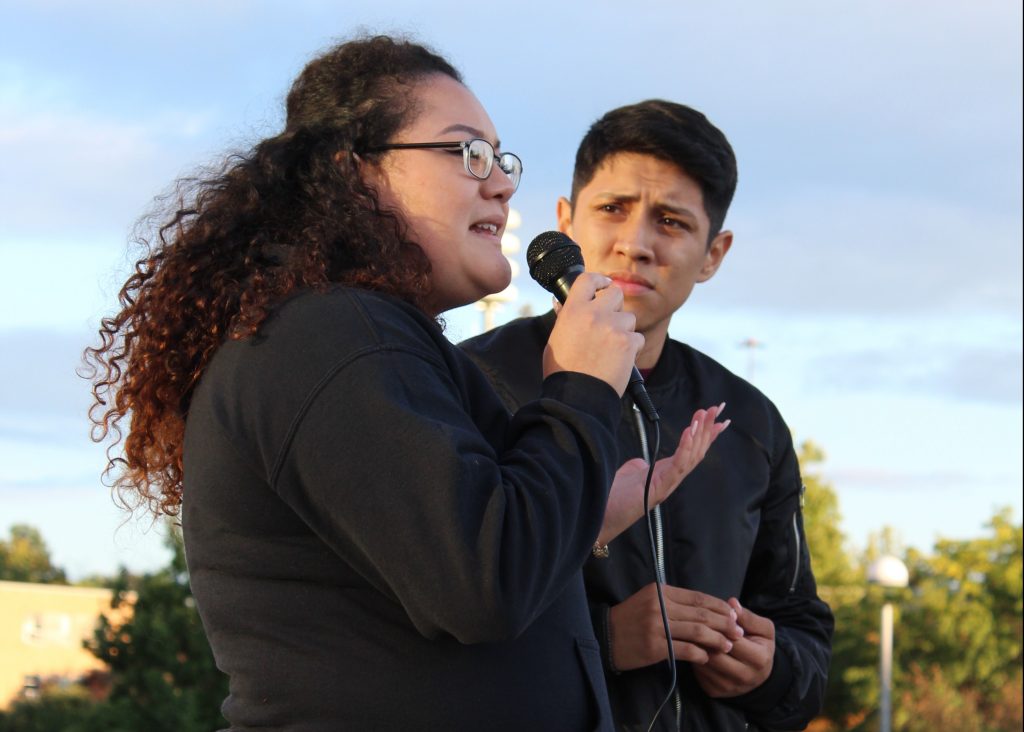 See more photos from the DACA student protest by clicking here.
A solemn crowd gathered around North Quad Tuesday evening to share opinions and offer support to peers affected by the termination of the Deferred Action for Childhood Arrivals (DACA) program.
Attorney General Jeff Sessions announced on Tuesday, Sept. 5, the end of DACA–a program that protects about 800,000 undocumented immigrants who had been brought to the United States as young children. Students residing in Big Rapids can already feel the effects of this decision.
"Tonight we come together in our city halls, community spaces, our churches and campus to hold each other in unity to process the pain, anger and sorrow we feel," Ferris applied speech communications junior and president for the Hispanic Student Organization Daniel Rivera said.
The DACA program was an executive order created by former President Barack Obama in 2012. The program was made to provide legal status for recipients for a renewable two-year term, worker authorization and other benefits. Those who benefited from it came to be known as Dreamers.
"I feel very sad at the fact that I see a lot of students struggling to make it through high school with hopes of making it to college to benefit their families," Ferris social work junior Anna Rivera said. "Knowing that they wont be getting that opportunity really hurts me. I can't feel what they're feeling, however, I still fully support them. I'm frustrated that at the moment, we don't have the tools to move forward with this."
According to the Department of Homeland Security, as of September 2016, Michigan had nearly 11,000 approved DACA recipients and was ranked 24th in the nation. The median age of DACA children entering the United States as of this year is six years.
This decision to end DACA sets a countdown for congress to act to preserve the program's protections before DACA recipients begin losing their status March 5, 2018.
"Today is a sad day. We need to come together to support our students. We want to be here for you," Ferris State University President David Eisler said at the vigil. "We are also going to begin tomorrow morning seeing whatever we can do with our legislative delegation in Washington. Our university was founded on the concept of opportunity and we believe in that opportunity with each and every one of you."
Eisler released an official statement to the university community addressing the ending of DACA on Wednesday, Sept. 6. Eisler's full statement can be seen below.
To seek further support on campus, contact Birkam Health's Counseling Center at (231) 591-5968, the Office of Multicultural Student Services at (231) 591-2617 or the Diversity and Inclusion Office at (231) 591-3946.
"Tuesday evening on campus a group of our students gathered on the Quad for a vigil. These were students whose reactions ranged from concern to outrage about the decision announced in Washington on Tuesday to end DACA. Among them were students both worried and scared, not necessarily for themselves, but for friends, relatives, members of the community, and for children too young to be eligible for DACA. A series of students took the microphone to express their thoughts, emotions and support for one another. Each took a candle, which struggled to stay lit in the evening winds, in its own way a metaphorical expression of their experiences that day.

DACA or the Deferred Action for Childhood Arrivals program provides undocumented immigrants brought to this country as children the opportunity to work, have a driver's license and attend college for renewable two-year periods. Effective immediately no new DACA applications will be accepted and no renewals will be processed after six months. This decision can affect nearly 800,000 individuals across the United States. Certainly some of these are our own students, their family members and loved ones.

To each of our DACA students, please know we support you. We will proudly honor our founders' vision of a university that welcomes and values all students. We are here to provide friendship, support, counseling and assistance to you. Among many areas that will help you, contact Birkam Health's Counseling Center (591-5968) or KCAD's Counseling Center (616-451-2787 ext.1136), the Center for Latin@ Studies (591-2470), the Office of Multicultural Student Services (591-2617), and the Diversity and Inclusion Office (591-3946).

I will actively engage with Congressional leaders to develop and pass new legislation that protects opportunity for our students and their academic aspirations, and for those who follow in their paths. For our faculty and staff, please reach out, encourage, help and support our students. Thank you for being a University community that truly cares for all students."

— Ferris State University President David Eisler