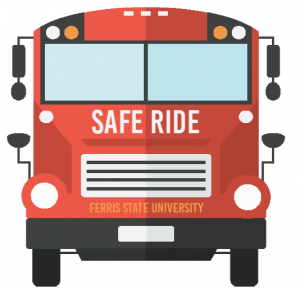 If you're drunk at the bar and so is your DD, SafeRide has you covered.
SafeRide, as described by it's webpage on Ferris' website is a free shuttle that provides transportation home from local establishments for students on the weekends.
Those local establishments include Gypsy Nickel, Sawmill Saloon and Shooters. It previously included The Gate and The Pub before their closings. The program runs Thursday, Friday and Saturday from 12 a.m. until 2:30 a.m.
During those times, a shuttle bus drives to each location. Once they arrive, a volunteer will come inside and announce that the bus has arrived. The volunteer will then write down the addresses of anyone who wants to ride the bus and take them home anywhere in Big Rapids. However, the bus will not drop you off somewhere other than a home or apartment complex.
"Seems like a good idea because it stops them from trying to drive back," said Ferris pre-pharmacy freshman Kylah Larson. "Because driving would be a bad idea especially with all the people walking and the crosswalks and everything."
Other than the driver of the bus, who is contracted through Dial-a-Ride, the staff on the bus is filled by volunteers. This brings a great opportunity to Registered Student Organizations (RSOs), Greek Life or anyone else looking to get volunteer hours in. Volunteers receive three hours of community service, while RSOs receive two hours per member and may have up to five members at a time, but are required to have at least three.
"I think it's great," said Ferris plastics and rubber engineering sophomore Nate Rieman. "Drunk driving is never a good thing so if people are going to help out, it's always a good thing. Get people home safe."
SafeRide provides an immeasurable service by cutting down on drunk driving in the area.
Between 2011 and 2015, Mecosta County averaged 198 arrests per year for drunk driving or driving under the influence of drugs, according to Michigan State Police's annual Drunk Driving Audit reports. Other than a spike in 2015, the amount of drunk driving arrests has steadily decreased since 2011.
By offering a free alternative to get home safely, the SafeRide program is a key contributor to helping those numbers fall. Between 2000 and 2014, 9,995 people received rides from the Big Rapids SafeRide program, keeping almost 10,000 potential drunk drivers off the road.
If you are interested in using the SafeRide program and want to track where the bus is heading, they have a mobile app named DoubleMap Bus Tracker that is available in the App Store and in the Google Play Store. If you don't want to download the app, you can also track the bus via a link on the Ferris State Volunteer Center SafeRide webpage.
If you would like to sign up to volunteer on the bus or would like more information about the program, visit the Center for Leadership, Activities, and Career Services (CLACS) office located in the University Center or visit the SafeRide page located on the Ferris website.