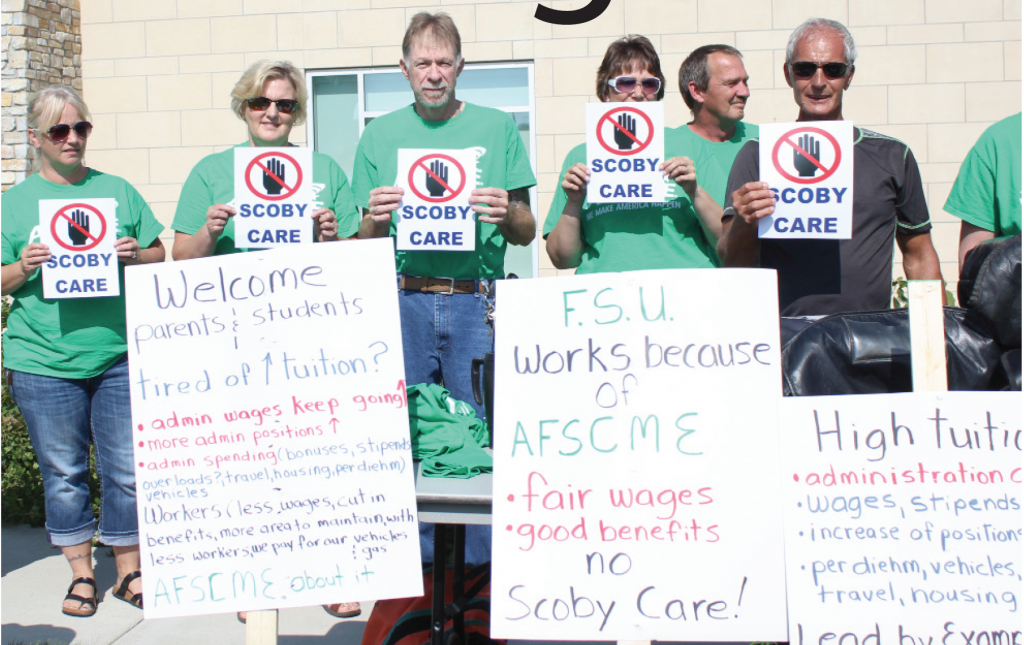 Healthcare is complicated to begin with but for some employees at Ferris, it's been particularly messy.
The Ferris American Federation of State, County and Municipal Employees (AFSCME) is a union made up of the employees who clean Ferris classrooms and dorms, provide food services and keep the campus grounds clean.
AFSCME picketers have been spotted around campus recently, including an appearance at Ferris' annual Founders Day celebration, during which they were handing out Little Caesars coupons with AFSCME information on the back.
Although a tentative agreement was reached and the contract negotiated on Sept. 8, it was a long road getting there.
Ferris retiree, former union president and current head of the crisis committee Tom Weaver claims that the union members were not getting any options when it came to their own healthcare.
"It was clear right off the get-go that their position was that they're not going to let us negotiate health insurance," Weaver said. "It's just negotiation. It's just a process, and the biggest issue going on here is they want to take away the right to negotiate health insurance. All those plans that exist here right now is because of the union negotiating these plans, and we like to have options."
The flyers and posters directly targeted Ferris President David Eisler and Vice President of Administration and Finance, Jerry Scoby, with statements declaring that the two personally have great healthcare benefits, but they won't allow the union members to negotiate for themselves.
"All I can tell you right now is this has been the worst contract I have ever seen. Later we will file an unfair labor practice because they have threatened us. What they want to do is they want to kind of dominate and intimidate us by saying our custodians make too much money," Weaver said.
A statement released from Ferris State University on Tuesday, Sept. 5, stated that the university is aware of the informational picketing.
"The University is focused on good-faith negotiations that will be conducted at the bargaining table rather than in public," the statement said. "Since May, eight bargaining sessions have taken place, including one with a mediator on Wednesday, Aug. 30."
Neither Ferris administration nor a representative from the union was available to comment on the newly negotiated agreement.