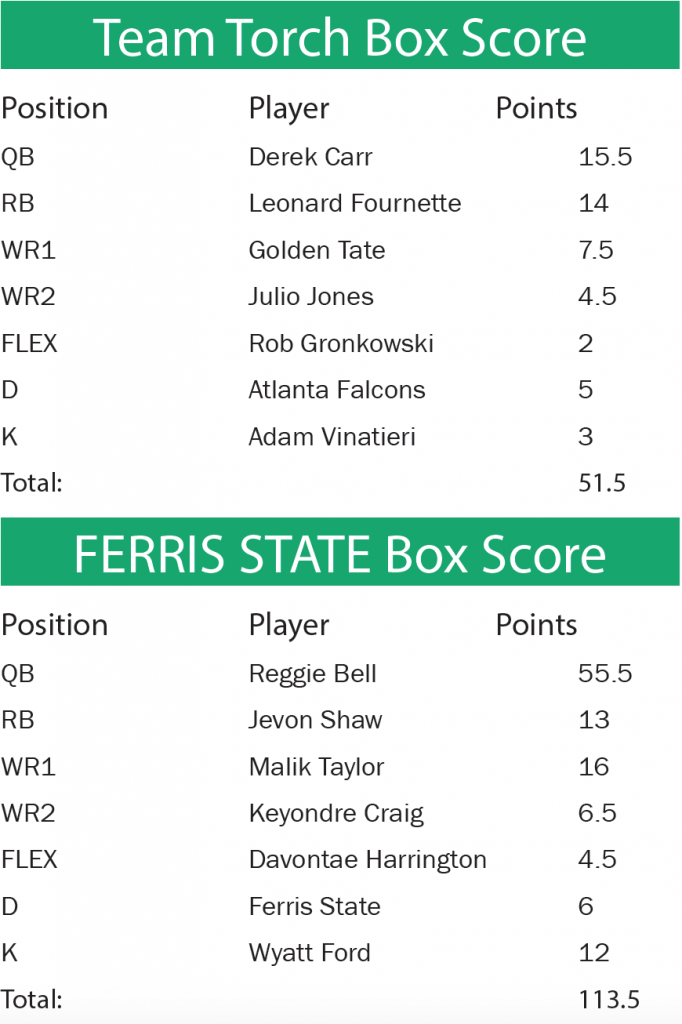 A beautiful first weekend of football kicked off Sept. 9 for Ferris State as they returned to the gridiron with a 48-27 win over Findlay.
Ferris State quarterback Reggie Bell showed up ready to play, leading his team in both passing (206) and rushing yards (216) in the big victory, combining for 422 total yards.
Bell not only dominated the Findlay defense, he also dominated my entire fantasy team by combining for 55.5 fantasy points on his own.
I thought that Oakland Raiders quarterback Derek Carr, due to his record breaking contract (before Detroit Lions quarterback Matthew Stafford signed his), might take my team to the promised land.
Carr put up a respectable 15.5 points but Bell more than tripled the franchise QB's total fantasy points and laughed in the face of Carr's "respectable" performance.
The only position that my fantasy team beat the Bulldogs in was the running back position but I fear that was only because Bell did most of the running. The Jacksonville Jaguars' fourth overall pick in the 2017 NFL Draft Leonard Fournette gained 14 points for my team, though Bulldog RB Jevon Shaw was close behind him with 13 points.
Bulldog kicker Wyatt Ford was able to knock in six extra points along with two field goals to give him 12 fantasy points over NFL veteran Adam Vinatieri's three fantasy points.
With Ferris' 113.5 to 51.5 win over the Beaulldogs, which is my fantasy team's self-proclaimed clever name, I fall to 0-1 to start the year in Ferris Fantasy Football while the Bulldogs improve to 1-0 with their impressive win over Findlay.
I will be back next week to recap the Bulldogs' matchup with Northern Michigan and to hopefully bring the Beaulldogs back with a vengeance.
Here is a quick look at who will be competing against Ferris in my fantasy matchup next week:
QB – Tom Brady: What better time to pull the Tom Brady card than the week after he took a walloping? After a lackluster performance against the Chiefs in week one, look for Brady to play with some intensity against the Saints.
RB – Le'Veon Bell: Bell is one of the most explosive backs in the league and one of the top fantasy prospects in any league. I'm going to need him to show up ready to play if I am to compete against the Bulldogs.
WR 1 – Larry Fitzgerald: The dependable veteran gave a great effort in Arizona's week one matchup against a tough Detroit defense. Hopefully Carson Palmer can find Larry in the end zone.
WR 2 – Tyreek Hill: Hill scored a touchdown in the Chiefs' big week one win over the Patriots. Hopefully some of that magic will carry over to their week two matchup against the Eagles.
FLEX – Devonta Freeman: I'm placing Freeman in the FLEX position this week to give my team as much of a chance as possible against these dominant Bulldogs. I'm starting to get desperate here and it's only week two.
Defense – Houston: They may have been eaten up by Fournette and the Jaguars last week but the Texan defense has some key players who should be able to perform. Against a Cincinnati offense that struggled last week, look for J.J. Watt and company to perform.
Kicker – Justin Tucker: Tucker and the Ravens take on the Browns in week two. As one of the best of 2016, Tucker needs to snag some points for me against Cleveland.
Click here for more Ferris Fantasy Football.